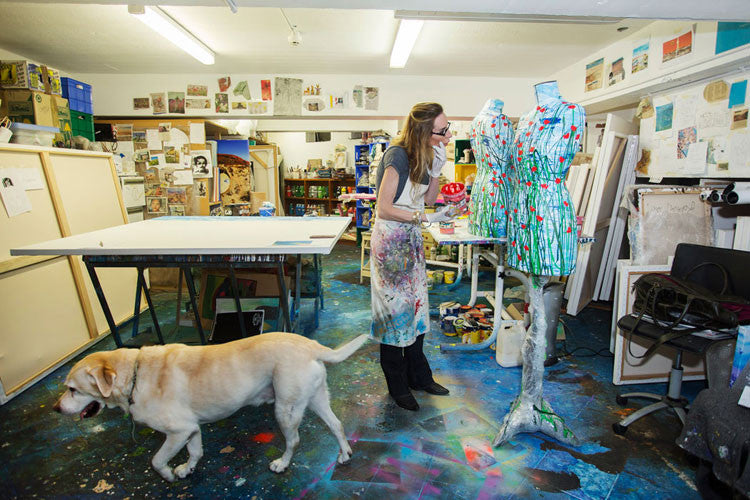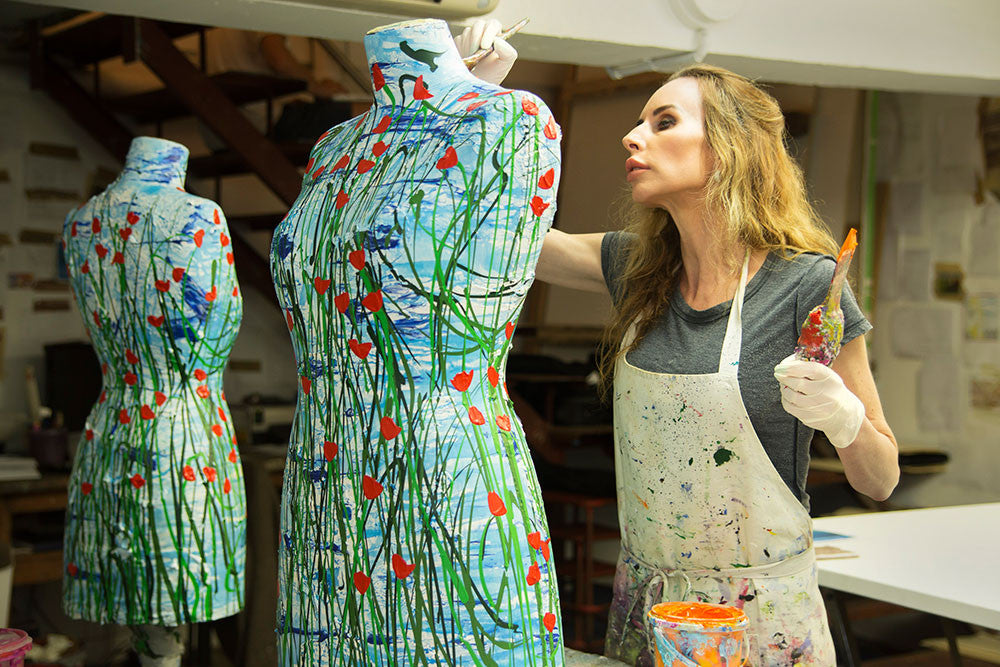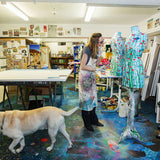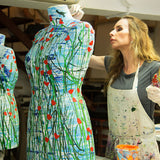 Artist Statement: 'The Simple Life - Decluttering, redefining, sea change, tree change, life change, reverting to basics and worshiping the Luddite.'

My background of over twenty years in the fashion, design and licensing fields has considerable bearing on my work as an artist. Detail and a precise construct are paramount in both my process and approach.
My work often embodies personal responses to daily and ongoing events and issues. For me the process of painting could also be viewed as a metaphor for life and creation. As we are a part of nature our energies often flow through what we do and the materials we use. Harnessing this alongside my personal responses a sometimes cathartic commentary evolves.
This body of work notes elements of a harmonious, calm intercourse through to chaotic, tangled conversations in hi key colour and texture in overload mode. To heighten the states of flux and turmoil, I attempt to create tension through the utilisation of diverse medium, intense colour and extreme quantities of product, it's method of application haphazardly orchestrated. The stippled surface found amongst my works, is for me a reflection of us, humanity, as tiny specs often grouped but sometimes alone and isolated.
The variation in my technique, subject and application of medium can sometimes surprise, this ongoing conversation with diversity results in driving my work in many directions and is due to my love of experimentation and pushing the medium to extremes.
Medium: Mixed Media on Canvas
Dimensions: 101 x 101 cms 
Date: 2017
Condition: Good
CHG Director's Statement: This work selected as a finalist in the Heysen Prize 2014. Interpretation of Place. Rebecca Pierce has participated in numerous solo and group exhibitions throughout Australia and overseas. She has been a finalist in major art prizes including the Glencore Percival Portrait Prize, the Mosman Art Prize, the Heysen Art Prize, the Fishers Ghost Art Prize, the Hawkesbury Art Prize, the Hunters Hill Art Prize, the ANL Maritime Art Prize and the Willoughby Art Prize. Rebecca's work is represented in corporate and private collections in Australia and Internationally.
Rebecca primarily works with paint, inks and fine points on canvas and paper.
Her work initially with a design and decorative orientation harnesses these elements whilst exploring aspects of the natural and urban landscape. The interpretation of the human face and the reading of the landscape, effects of cyclical, emotional and climatic changes to ourselves and others responses to these are often drawn upon.The unpredictability of Rebecca's subject, frequently rendered to create a third dimension, can often simultaneously create tension laced with elements of playfulness.
RELATED SERVICES
If this artwork is SOLD or ON RESERVE and you would like to BUY art by this artist please contact us here. 

If you would like an APPRAISAL or VALUATION for art by this artist please use our online valuation service here.

If you would like to SELL art by this artist please contact us here.
---