Introducing
Margaret Olley - Artist (1923-2011)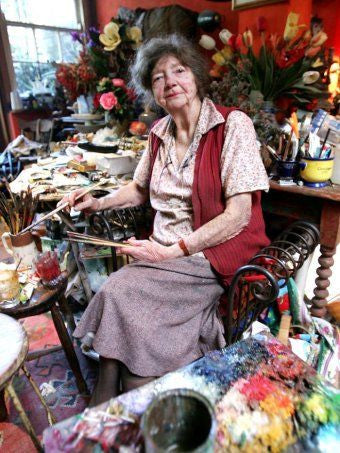 About The Artist
Margaret Olley was one of Australia's most respected and well-loved painters, a fine creator of still life and a great mentor to generations of Australian artists.
Attending boarding school at Somerville House, Brisbane, Margaret showed an immense skill for drawing and painting and she took a strong interest in the arts, dropping her French lessons to enrol in an extra arts class. After encouragement from a teacher, Olley was sent to art school and studied for four years at East Sydney Technical College where she graduated with Class A Honours.
Olley's first solo exhibition at Macquarie Galleries in 1948 received gushing reviews, several national galleries purchasing her works, and the young artist was shot to the status of celebrity within the Australian art world.
During the early 1950s, Olley rejected the growing trend of abstract expressionism, preferring instead to paint still life, unapologetic to the critics who labelled her works as 'out-dated'.
Using her eclectic home in Paddington as a studio, Olley created vibrant still life pieces and cosy interiors, her subjects being trinkets she had collected from around the world and gifts given by friends and fellow artists. This organised clutter was a great inspiration to the artist, and she considered her home to be a lifelong art installation, painting scenes of surfaces crowded with bowls of fruit, arranged flowers, furniture, photographs and jewellery.
Olley was a prolific painter, holding at least one exhibition per year since 1948. At the age of 84, Olley painted one of her most well known pieces, Yellow Room, a three-panel interior of the artist's favourite room in her Paddington home. Inspired by a trip to Paris in 2002, Olley painted the Impressionist triptych in a desire to create a large interior such as those she saw in the Musée d'Orsay.
Olley was twice the subject of Archibald winning pieces, the first by William Dobell in 1948 and the second by Ben Quilty in 2011, and in 2006 she was made a Companion of the Order of Australia for her tireless contributions to the arts.
Soon after, she met fellow artist Donald Friend and began painting with him in the historic gold mining town of Hill End, sparking the beginning of a stream of artists who would immortalise the area. Her paintings from this time are mainly landscapes, created in the French style of plein air, although she would soon turn exclusively to painting still life.