Introducing
Pro Hart - Artist (1928-2006)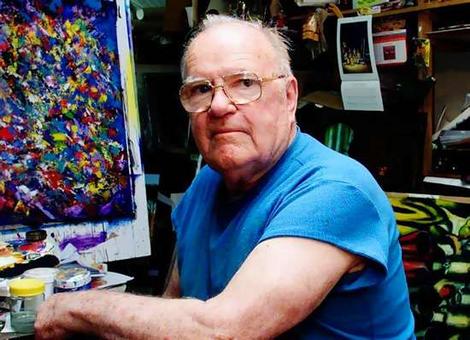 Pro Hart Artist
About The Artist
Pro Hart was one of Australia's most iconic, prolific and polarizing artists, his unique landscapes capturing the spirit of the outback with an unrivaled authenticity.
Born and raised in outback New South Wales, Pro Hart infused his works with the true character of the land, portraying its harshness and immensity with firsthand experience. Working in the mines at Broken Hill in his late teens, the artist often returned home after a 12-hour day to work on his true passion – art. His experiences in the mines and the characters he met served as great inspiration for his pieces that depict the tough conditions and realities of life in the country.
Pro Hart showed an artistic flair from a young age preferring to extensively illustrate his school essays rather than write. A self-taught artist, he developed his talent for brushwork over his formative years before being discovered in 1962 by an art gallery director from Adelaide. After his first exhibition, a sell-out show, Hart, nicknamed "Pro" for his immense talent, was catapulted to fame and began painting full-time.
Pro Hart's works are distinguished by their almost semi-primitive style and their use of bold, vibrant colours true to the rich Australian landscapes they depict. His work was not limited to the outback and mining but also portrayed life in other circles, including cityscapes, beach scenes and studies of flowers and insects.
One of Australia's most loved artists and characters, Pro Hart showed his creativity in many ways, exploring performance art, producing ice sculptures, dropping paint from hot air balloons and even firing it out of a cannon onto his selected medium. He also sculpted extensively, creating pieces from bronze, welded steel and ceramics.
Throughout his career, Pro Hart held nineteen international exhibitions, illustrated fourteen books and in 1982 received an Honorary Life Membership to the Society International Artistique for his outstanding artistic achievement, an honour that is only granted to one individual per continent.
Pro Hart's artworks are the only works in the world to be protected by unique DNA Artmarks which, when electronically detected, are proof of the pieces' authenticity.