Introducing
Susan Sheridan | CHG Represented Artist
"Susan experiences the landscape by absorbing all its nature, its moods and records. Returning to her studio she examines the true nature of the subject and how to express it simply with abstract forms but with enough reality to lead the viewer into the work. For, "it is not just a matter of painting a truthful record of one's observations; it is, as Cezanne knew, a need to find one's own truth in painting".
Mark Widdup.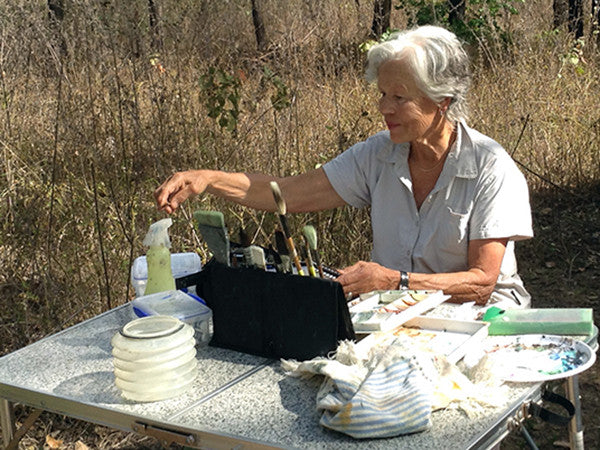 About The Artists
Susan Sheridan has always painted and has been a professional artist for almost forty years.
After leaving school in Sydney she enrolled in a design course at East Sydney Technical College (The National Art School). While studying design she added several classes of painting with Peter Laverty to her timetable. She continued with these art classes at night after completing design and also attended drawing classes at The Julian Ashton Art School.

Influenced by and working in the city Susan's earlier works reflected the exciting abstract quality of the structure of the cityscape. One of her earliest solo exhibitions was a series on the construction of Joern Utzon's Opera House - a sellout show. In the early seventies she travelled to the highlands of New Guinea and this resulted in an exciting exhibition of the awesome "Sing Sings" and the exotic rugged highland landscape.
However, it is her evocative depictions of Australia that tell the story of her travels throughout this land. In 1986 one of her watercolours was chosen to hang at the Mall Galleries in London with the Federation of British Artists.

As a member of The Australian Watercolour Institute she was represented in AWI exhibitions in Canada in 1992 and in Hong Kong in 1996.

In 1998 two major works were selected to hang in a sponsored exhibition title "Out of Australia - Australian Contemporary Paintings" in Shanghai. In 1999 and 2001, her exhibitions in Hong Kong proved to be successful. It is not therefore surprising that her paintings grace the walls of many homes, hotels, resorts, boardrooms, offices and institutions throughout the world.
Artists Statement
Every now and then, on my travels, I find a landscape which really excites and I have time to absorb and 'be in' this landscape. It may be the light, the lines, the mysterious mood, many other things. I carry a sketch book and sometimes it only takes a few lines drawn to evoke the feeling I have about the area. Sometimes I record in watercolour or gouache but I do a lot of thinking about how I wish to put down my thoughts as simply as possible. I look forward to going back to my studio and working with the medium I feel most suited to the subject, be it watercolour, acrylic, or oil paint and transporting myself back into that landscape.
When l am inspired to paint a landscape, the following elements are important to me. The existence of lines, be they straight, curving and intersecting, natural or man made.
Texture, rough or smooth and maybe with reflections. Space, a mix of quiet space and exciting movement.
CHG Director's Statement
I first saw Australian artist Susan Sheridan's work at the Strawberry Hills Gallery, Surrey Hills in the 1970's and was captivated by the serenity! Words of description and observations along the lines of – muted tones, atmospheric, impressionistic, sublime, dreamy, understatement and capturing a feeling, all described her art convincingly.
Awards
First prizes at: Mosman Art Prize 1984; Royal Easter Show 1982; Cheltenham GHS 1968; Wee Waa Art Show 1977; Scone Art Show 1983; Bowral Mittagong Art Show 1990, 1991;
Selected to hang in Wynne Prize on 7 occasions
Artists Testimonials
In 2003, as a member of the Australian Watercolour Institute, AWI, I exhibited two watercolours in the Annual Show at Gosford Regional Gallery. I received a note from the late Rod Milgate saying, Dear Susan, It would be irresponsible not to convey my great joy with your work with the blue transparent centre piece- (that elusive marriage of meaning and significance) in the AWI Annual Show. It is daring, adventurous, where skills do not get up the road of innate sensitivities and a beautifully composed and controlled concept.
Rod M
Commissions
Hayman Island Resort; Park Lane Hotel, Sydney; Hilton Hotel Sydney; Ramada Hotel Parramatta.
Education
Design course at East Sydney Technical College (The National Art School). While studying design she added several classes of painting with Peter Laverty to her timetable. She continued with these art classes at night after completing design and also attended drawing classes at The Julian Ashton Art School.
Exhibitions
28 solo exhibitions, with multiple group shows.
Solo Exhibitions
1968 Beard Watsons Gallery, Sydney (Opera House show)
1969 Beard Watsons Gallery, Sydney
1970 Beard Watsons Gallery, Sydney
1972 Mosman Gallery, Sydney
1973 Strawberry Hills Gallery, Sydney
1977 Cooks Hill Gallery, Newcastle
1979 Cooks Hill Gallery, Newcastle
1979 Wagner Gallery, Sydney
1980 Wagner Gallery, Sydney
1981 Cooks Hill Gallery, Newcastle
1981 The Lennox Gallery, Parramatta
1982 Bolitho Gallery, Canberra
1983 Wagner Gallery, Sydney
1984 Wagner Gallery, Sydney
1985 Wagner Gallery, Sydney
1987 Wagner Gallery, Sydney
1989 Wagner Gallery, Sydney
1991 Bridge Street Gallery, Sydney
1993 Cooks Hill Gallery, Newcastle
1994 Gallery 460, Gosford
1996 Cooks Hill Gallery, Newcastle
1998 Cooks Hill Gallery, Newcastle
1998 Eddie Glastra Gallery, Sydney
1999 Cooks Hill Gallery, Newcastle
2001 Wagner Gallery, Sydney
2001 Cooks Hill Gallery, Newcastle
2003 Cooks Hill Gallery, Newcastle
2004 Wagner Gallery, Sydney
2007 Wagner Gallery, Sydney
2017 Cooks Hill Galleries, Lagoon Series
Two Persons Exhibitions
1985 Gallery 460, Gosford
1989 Bridge Street Gallery, Sydney
1993 Bridge Street Gallery, Sydney

Group Shows at Manly Art Gallery, Wagner Art Gallery, Cooks Hill Art Gallery, Mosman Gallery, Bridge Street Gallery, Burchell Gallery and Weswel Gallery.
Kedumba Drawing Award 2007
International Exhibitions
1986 Mall Galleries, London. Federation of British Artists
1992 AWI Exhibition in Canada
1996 AWI Exhibition in Hong Kong
1998 Contemporary Art Exhibition in Shanghai, presented by Wagner Art Gallery.
1999 Participated in first major Australian exhibition in Hong Kong presented by Wagner Art Gallery
2001 Exhibition "Faraway Places" Gallery Dorchester U.K.
Comments Of Notes
In an article written in the WEEKEND AUSTRALIAN May 26-27 2001, Giles Auty writes an article on landscape painting and a critique of my exhibition " Bush and Beyond ".
Susan Sheridan takes an intelligent approach to an old question in Bush and Beyond. As a former or even present abstract expressionist, she has an intense awareness of the formal properties of painting, and thus regards landscape more as a stimulus than as an end in itself. She is an enthusiastic traveller, struggling to interact with the spirit of new and unfamiliar places. In the main she extracts elements from these that provide some topographical keynote – egrets, perhaps or unusual burnt grasses – then relies on intuitive painterly instincts to pull everything together. In the present show, for instance, the Innamincka and Noccundra waterholes, just north of the Flinders Ranges, provide a groundswell of themes. Sheridan is experienced and accomplished and clearly believes in a more ostensibly modern approach to landscape.
The English critic John Berger once wrote that those who stare long enough at landscape are rewarded occasionally by the feeling that the landscape is staring back at them. Clearly there is more to landscape painting than necessarily meets the eye.

In May 1996, Michael Pursche, wrote a critique of the annual art show of the Peninsula Art Society, held at the Manly Art Gallery and Museum.
He said, Susan Sheridan's superb painting Alpine Undressed, takes a different approach to landscape. It recognises the Australian bush full of textures full of tangled branches, grass and dried wattle. Her work is overlayed with another artistic element.
It's an interpretation that takes its origin from refracted light Earlier this century it was called Orphism. That artistic movement had its origins in Europe, in Australia Roy de Maistre was one of the leading exponents. Susan Sheridan's work the modernist abstraction of Orphism is modified. Sheridan has firmly retained a lyrical relationship between the recognisable landscape and its Orphism interpretation. Its like looking at the bush through a crystal or kaleidoscope, with a light refracting and splitting into the colours of the spectrum. It's a painting above all about light and about how it relates to what we see in the landscape.
Publications
1972 The Bulletin Magazine,The Sydney Morning Herald
1981 The Newcastle Times
1982 The Canberra Times
1991 The Sydney Morning Herald
1996 The Newcastle Times
1999 September, South China Morning Post
1996 May, Manly Art Gallery & Museum News
2001 May, The Weekend Australian,The Sun Herald