Introducing
Andrew Bennett | CHG Represented Artists
"Has Bennett's surrealism broken boundaries in surrealistic art? With how he combines landscape, seascape, figure and objects, has he created a new balance of forms within a background?
His latest paintings feature the human form yet the body is absent and the landscape plays such a dominant position within his compositions" . -
Mark Widdup.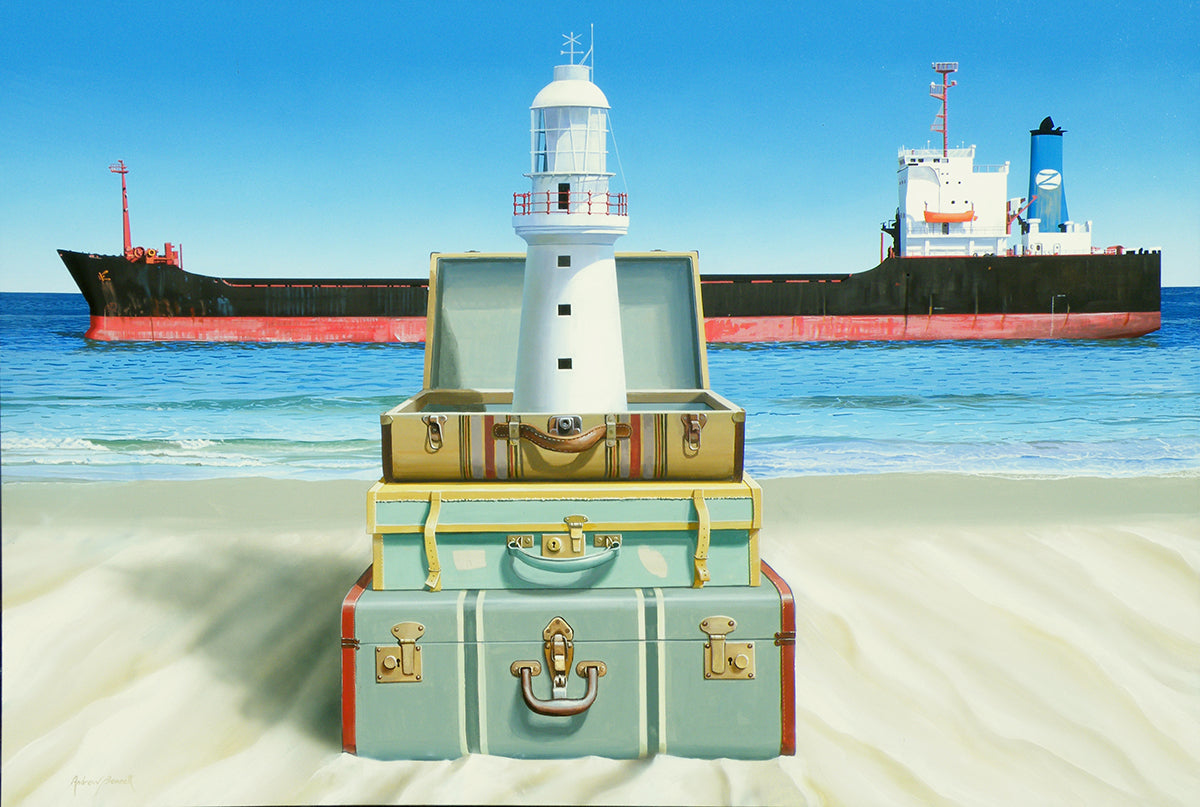 About the artists
Artists Statement
I have been a practicing artist for decades now and the one consistency throughout my work has be my interest in two things: firstly, in the observation of the the world through the various subject interests I've explored; and secondly, exploring an idea as a vehicle for the first.
This often leads to a fusion of a quite high realism and a often almost surreal expression., though really it's more conceptual, observed realism that I'm exploring.
Take an idea and then apply the observation of the objects and content that expresses that idea. This leads to a final work that is not a simple document of what I've observed, but rather an expression of my imagination rooted in the world as I've observed it.

That tension between an idea and delivering it in a way that conforms to how I'm observing it is at the heart of my practice. Each painting presents a slew of possible interactions to explore as I work the process from the initial inception, to the final rendition.

Throughout the application I strive to keep a sense of life in the work, that very hard to categorise element that one has to feel, perhaps even intuit, rather than simply reason. It can be as simple as an unexpected placement in the composition or an addition or subtraction of another element that can bring a
work to life.
All works are acrylic on canvas after an extensive preparation
of 6 to 8 sanded undercoats.
Andrew Bennett
CHG Directors statement
Surrealism usually infers dream like or from the dream, to apply imagination, to develop a composition of a painting or sculpture. An surrealistic artwork is often associated with either the realism of an object/s and or people within a landscape or seascape. Sometimes collage is incorporated. Some artist represent a mystic or surreal world, within their landscape interpretation implying another space or perhaps using a lack of gravity. Often displaying a non sensible use and placement of objects and deliberate placed out of context!
This results in a 'fascination' for the viewer, often demanding a second viewing, to confirm the first. The brain is conditioned to seeing objects in a context, surrealism attempts to challenge the viewer!
Andrew Bennett is the consummate surrealist with the placement if objects. He creates almost a still life placement of objects with a composition, I'm sure the balance of objects is his concern when developing the subject matter to paint.
His landscape or 'interior' settings inspires wonderment, awe and challenges the senses. He uses a high key palette tone often incorporating a graduating coloured sky or backdrop which accentuates a focal point or object within his painting.
The finish of the paint surface is important to the artist, never
revealing evidence of paint texture. Surrealism presents the artist with challenging thought and perspective involving a staging of process; the selection of objects, considered placement and give the whole a context
maybe even a message for the viewer! For me I admire the surrealist painter requiring a cerebral balancing act:- to think of a composition the logistical mindset of placement followed by grasping all the elements that make the total and finished form.
Artists Education
1985-87 City Arts Institute
Bachelor of Fine Arts (Major: Painting; minor: photography)
1984 NSW Institute of Technology
Physics
Collections
BHP Biliton
AMP Society
Beerworth & Partners
John LandererJoseph Brenda
Private collections in Australia, England, Italy, Israel, Japan, Switzerland, Hong Kong and the United States
Publications
Advocate Express
Art & Australia
Architectural Review
Architectural Digest (US)
Wentworth Courier
Sydney Morning Herald (Spectrum)
Exhibitions
2020-21 Extensive showings at Cooks Hill Galleries, Newcastle NSW.
2020 – Group Exhibitions  Boltspace, Maitland, The Plants Exhibition Sydney,
Botanical Gardens, Finalist in the Kilgour Prize, NAG
2019 – Solo Exhibition At Ken Lane & Pure Performance) Artastique Maitland
2017 – Solo Exhibition Maunsell Wickes Gallery, Sydney
2016 – Solo Exhibition Maunsell Wickes Gallery, Sydney
2015 – Solo Exhibition Maunsell Wickes Gallery, Sydney
2014 – By the lake Maunsell Wickes Gallery, Sydney
2013 – Harbour: A personal view Maunsell Wickes Gallery, Sydney
2012 – Solo Exhibition Maunsell Wickes Gallery, Sydney
2011 – Solo Exhibition Maunsell Wickes Gallery, Sydney
2009 – Solo Exhibition Small Quirks, Seek Gallery, Sydney
2009 – Solo Exhibition Seek Gallery, Sydney
2008 – Solo Exhibition Harrison Galleries, Sydney
2007 – Solo Exhibition Harrison Galleries, Sydney
2006 – Solo Exhibition Gallery 1011, Melbourne
2006 – Solo Exhibition Harrison Galleries, Sydney
2005 – Solo Exhibition Gallery 460, NSW
2004 – Solo Exhibition Brian Moore Gallery, Sydney
2003 – Solo Exhibition Gallery 460, NSW
2002 – Solo Exhibition Brian Moore Gallery, Sydney
2000 – Solo Exhibition Eddie Glastra Gallery, Sydney
1998 – Solo Exhibition Eddie Glastra Gallery, Sydney
1996 – Solo Exhibition Eddie Glastra Gallery, Sydney
1994 – Solo Exhibition Eddie Glastra Gallery, Sydney
1992 – Solo Exhibition Eddie Glastra Gallery, Sydney