Introducing
Tim Storrier - Artist
Tim Storrier Artist Packing Room Prize
About The Artist
Tim Storrier is one of Australia's foremost symbolic landscape painters, and the winner of the 2012 Archibald Prize and 2014 Packing Room Prize.
At age thirteen, Tim Storrier won the Agricultural Society's Under Sixteens Best Drawing Competition in his hometown of Wellington, New South Wales, and later studied Graphic Design at the National Art School in Sydney. After two years of study, he worked as a graphic designer for the Australian Broadcasting Commission, continuing to paint in his spare time.
In 1968, he became the youngest winner of the prestigious Art Gallery of NSW Sulman Prize at age nineteen with his piece Suzy 350. A bacon-esque piece, the oil on board features an entangled couple on a soaring motorbike, and its recognition and immense popularity soon catapulted the young artist into the world of Australian art.
After study tours to the Middle East and Central Australia, Storrier became enraptured with expansive landscapes and isolated townships and began to paint symbolic, evocative pieces of the remote places he visited. Painting plein air, Storrier camps out amongst the scenes he reproduces, experiencing the environment firsthand and infusing his works with a sense of immediacy.
Storrier has experimented with mixed media, photography and pop art, but the hallmarks of his body of work are his atmospheric depictions of Australian landscapes. In his Burning Rope series, Storrier uses his advanced technical skills to create intricate, realist scenes of the land in its various daily metamorphosises. Inspired by the destruction and decay of material culture and the beauty and harshness of the outback, the pieces from this collection showcase the power and vitality of fire as a force of nature. With string-lines of fire hung horizontally before desolate surrounds, works such as Evening Line showcase the flames as a source of beauty and destruction, their warm, vibrant colours complementing the blushing evening sky of a peaceful Australian landscape. After completing this series, Storrier went on to create his Burning Log paintings, done in a similar vein.
Several of Storrier's works are hung in the Metropolitan Museum of New York. He won the Art Gallery of NSW Sulman Prize for the second time in 1984, and was awarded an Order of Australia Medal in 1994 for his services to art.
In 2014 Tim Storrier won the Packing Room Prize with his portrait of Barry Humphries's alter ego Sir Les Patterson.
"The Fall" by Australian Artist Tim Storrier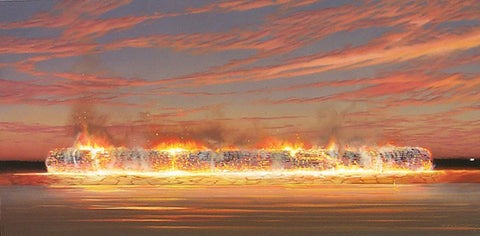 "Evening Line" by Australian Artist Tim Storrier