Introducing
Rick Amor - Artist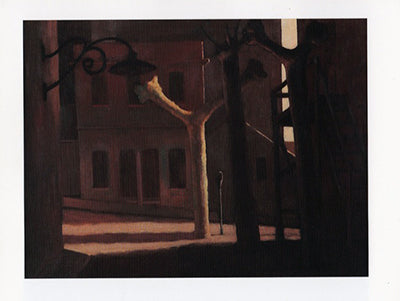 "Celestial Lane (Three Trees)" by Australian Artist Rick Amor
About The Artist
Born on the Mornington Peninsula, Rick Amor is a forerunner in Australian contemporary figurative art and was an Official War Artist for the Australian War Memorial during the campaign in East Timor.
At the age of twelve, Rick Amor was encouraged by both his father and aunt to paint the coastal environment that surrounded the family home, and in 1965 he completed a Certificate of Art at the Caulfield Institute of Art before studying for two years at the National Gallery School, Melbourne.
An artist of diverse subjects, Amor painted portraits, seascapes and nudes in his earlier years before creating the gloomy urban landscapes for which he is best known. Produced with lashings of surrealism, his depictions of vast industrial spaces and shadowy landscapes of machinery are infused with a film noir sense of unease and fear of the unknown. Often featuring darkened figures skulking around corners, dwarfed by gigantic menacing buildings, Amor's works are bleak images of modern anxiety and loneliness.
In 1999, Amor was appointed as Official War Artist to East Timor, where he photographed his observations of the everyday life of Australian soldiers and locals and the destruction of the land through which he travelled. Upon his return, Amor painted his impressions of the war-torn country, concentrating on the discomfort experienced not only by Australian soldiers but also by displaced and distressed locals. Completing almost twice the amount of pieces required by the Australian War Memorial, he depicted outdoor troop bathrooms with little privacy, elderly men trudging along carrying their remaining belongings, and blood-stained cathedrals, all in his trademark gradually layered style.
Amor's artistic process is often measured and drawn-out – rough sketches become drawings, drawings become small watercolours or prints, prints become half-size paintings which often don't make it through the selection process to become full-sized.
Sculpting since the early 1990s, Amor has also created various symbolic pieces mainly from bronze. Moulding at home then casting in foundry, he uses the lost wax method to produce his works, one of which was purchased by the National Gallery of Canberra in 2004. Another bronze sculpture, Relic, an evocative, haunting bust of a wolf-like creature, won the prestigious McClellan Sculpture Award in 2007.
"Timor" by Australian Artist Rick Amor