Introducing
Grace Cossington Smith - Artist (1892 - 1984)
Artist Grace Cossington Smith, 1940's
About The Artist
Grace Cossington Smith is one of Australia's most celebrated 20th century painters. An early Modernist, Cossington was deeply fascinated by colour and light in her surroundings, and there is a constant development reflected in her work throughout different phases of her life.
"My chief interest, I think, has always been colour, but not flat crude colour, it must be colour within colour, it has to shine; light must be in it" – Grace Cossington Smith
Grace Cossington initiated Modernist painting in Australia, and played a vital role in introducing Post-impressionism to her country. She drew from her surroundings in Sydney city, metamorphosing her observations into vivid, light conscious, vibrant, depictions of her environment. She closely observed and recorded the construction of 'Sydney Harbour Bridge' in her sketches and pastel work.
Grace Cossington came from a well-off family, born in Sydney in 1892. Grace attended school in Wahroonga where she was taught by Albert Collins and Alfred Coffey. From 1910–12 she studied drawing with Antonio Dattilo-Rubbo. She also studied with Norah Simpson and became interested in Modernist art, and travelled to Europe for further study.
Cossington's "The Sock Knitter" (1915), was arguably Australia's first post-Impressionist painting. Cossington's signature individual square brush strokes, with bright unblended colours, can be seen in her numerous paintings of Sydney landscapes, still-lifes, and interiors. Grace Cossington's most famous painting is arguably "The Lacquer Room" (1936), where she celebrated modern urbanised life. One of the most innovative Australian artists of her time, Cossington painted bright, colourful interiors in the 1950's and '60s.
The artist was acclaimed in her lifetime. In 1973, a major retrospective exhibition of her work toured Australia. She had eleven solo exhibitions at the 'Macquarie Galleries' over a span of 40 years. Major art institutions that house Cossington's works include; the 'Art Gallery of New South Wales', 'Australian National Gallery', Canberra, 'National Gallery of Victoria', 'Art Gallery of South Australia', 'Queensland Art Gallery', 'Newcastle Regional Art Gallery', 'Bathurst Regional Art Gallery', 'Western Australian Art Gallery', and the 'Tasmanian Museum', Hobart.
In 1973 Smith was made an 'Officer of the Order of the British Empire' for her services to Australian art. She was also appointed an 'Officer of the Order of Australia' in 1983.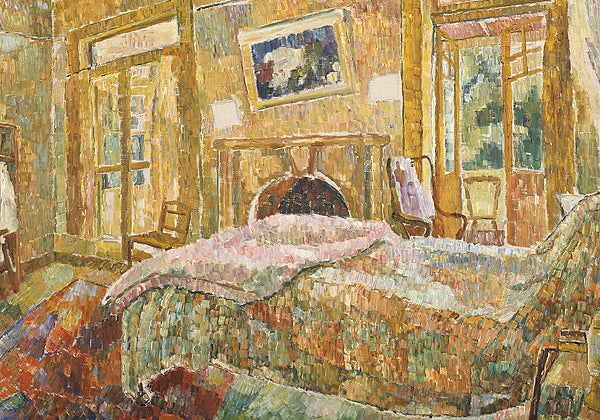 Interior with veranda doors 1954, Grace Cossington Smith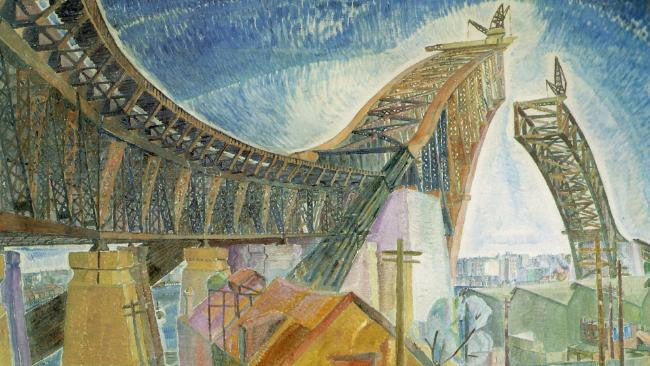 Cossington's rendition of the construction of Sydney Harbour Bridge.