Introducing
Fiona Hall - Artist
About The Artist
Fiona Hall was a photographer until the late 1970's, later expanding her forte to sculpture, painting, installation, garden design and video. Hall pursued a 'Diploma of Painting' from East Sydney Technical School. She is now known as one of Australia's most well-known and established contemporary artists.
Hall travelled and lived in Europe and England, exhibiting for the first time at London's 'Creative Camera Gallery'. She slowly emerged as a photographer, exhibiting at 'Church Street Photography Centre' in Melbourne and later pursuing Postgraduate training in photography in the US. Fiona Hall then returned to Australia to become an artist in residence at the 'Tasmanian School of Art'.
Fiona Hall transitioned to both traditional and unconventional art media in the 1980's and 1990's. During this time, she painted several series of artworks and had numerous exhibitions in Australia. She took up a lecturing position at the 'South Australian School of Art' and later became a Creative Arts Fellow at the 'Australian National University', Canberra.
During this time, major institutions started to recognize Hall's work. The 'National Gallery of Australia' bought several pieces and hosted an exhibition "The Garden of Earthly Delights: The Art of Fiona Hall". She also undertook a few artist residencies, before settling at the 'Asialink Lunuganga Residency' in Sri Lanka.
Hall's possibly best-known work is "Paradisus Terrestris", a series of works linking nature and human culture. Fiona Hall's artwork addresses a range of modern world topics; consumerism, colonialism, and globalisation. In recent works, Hall has painted paper currency and foliage from chosen countries, spreading the message of the degradation of plant life, and that money cannot buy everything.
Fiona Hall represented Australia at the '56th Venice Biennale' in 2015.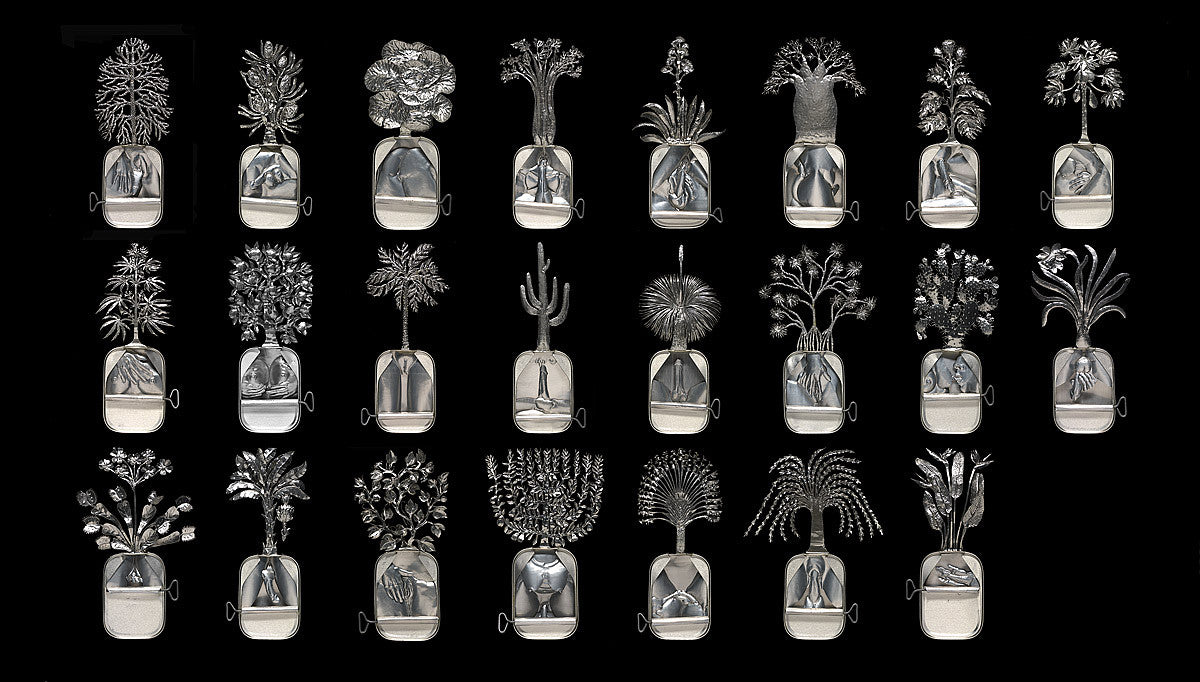 Paradisus Terrestris 1989-90, Fiona Hall