Introducing
Russell Drysdale - Artist (1912 - 1981)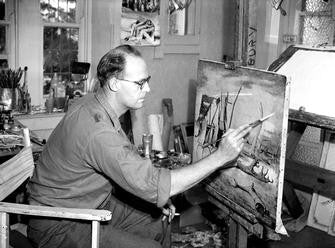 About The Artist
Sir George Russell Drysdale (b.1912-d.1981) was born in England to a wealthy Anglo-Australian pastoralist family, that settled in Melbourne in 1923. Drysdale was one of the first Australian artists of his time to receive international acclaim, along with Sidney Nolan and Arthur Boyd. His artwork reflected his personality, and was best known for stereotypical Australian characteristics.
Drysdale had poor eyesight which prevented him from enlisting in the army, and, due to his detached retina, was nearly blind in his left eye at the age of 17. At 'Geelong Grammar School' in Melbourne, Russell Drysdale studied drawing five times per week. His lack of vision in one eye was advantageous as his drawings displayed an excellent depth of space, and sense of perspective.
Drysdale met Daryl Lindsay, an artist and critic, who inspired and supported him through pursuing a career in art, and connected him with George Bell. He took lessons from Bell in Melbourne from 1935 'til 1938. Drysdale also made several trips to Europe to study Impressionist and Parisian artists.
By 1939, Drysdale was recognised within Australia as an important emerging talent. He decided to leave Melbourne and explored Albury, and then Sydney. These travels influenced Drysdale to paint what he is now famous for; the quintessential uninhabited, inland Australian landscapes. Some of Drysdale's most significant art followed the development of his countryside theme, including; "The Crow Trap", "Man Reading a Paper", "The Drover's Wife", "Home Town" and "Sofala".
Drysdale had introduced a surrealistic element to Australian landscape painting and his paintings during the war outbreak portrayed a darker mood. During 'The Great Drought', in the 1940's, he recorded the hardships and tragedies of outback Australia, using key surrealistic characteristics. Drysdale's process of painting was slow and he worked with multiple layers.

"I am not what is known as a direct painter, in the sense that one puts down paint and does not touch it. I am what is known as an indirect painter, I prefer to be able to build up an underpainting and glaze and paint into the glazes and so forth. The old technique of painting, fat on lean, or lean on fat, cold on warm, or warm on cold, to me this gives paint a quality which I think is beautiful, I love it" -Sir George Russell Drysdale.
In 1942, the 'National Gallery of Victoria' purchased Drysdale's "Moody's Pub". This painting is now one of the most frequently reproduced images of 20th century art. Drysdale started receiving acclaim worldwide, with his work being printed in international magazines and exhibiting in London at the 'Tate'.
By the 1960's, Drysdale was undoubtedly the best known Australian artist. The 'Art Gallery of New South Wales' honoured him with a retrospective exhibition, the first of his generation to be given an exhibition of the kind. Russell Drysdale was knighted in 1969, and was awarded the 'Companion of the Order of Australia' in 1980. He died in Sydney, June 1981.
Drysdale's "Rocky McCormack" 1962-63 was auctioned for $1.89 million at an auction in 2008.