Introducing
Rod Bathgate | CHG Represented Artist
ARTifactual Interview with Rod Bathgate
"I have seen many 'pastel artists' both in Australia and in my travels and it is my opinion Rod Bathgate is outstanding! I believe he has an insight where he has developed a "feel"- being totally comfortable working with the pastel medium in a unique fashion!"
Mark Widdup.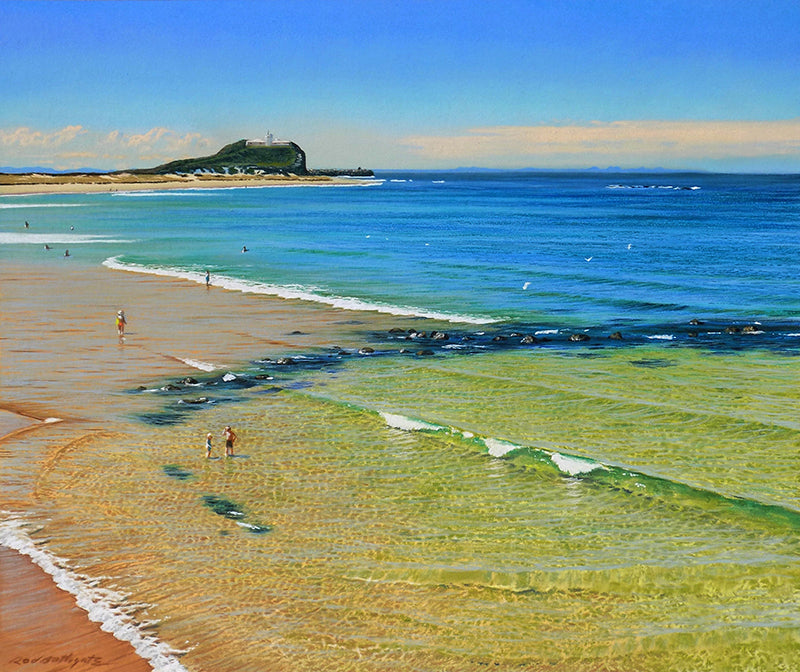 About The Artists
I continue to marvel at Rod Bathgate's understanding and mastery of the pastel medium. A challenging one to use!
Rod is not only accomplished with pastel on paper and board, but equally so in oil painting. Photolike complicated compositions detailing, light, water effects and beachscapes with a figurative aspect are what we expect from this artist.

If you are seeking trade marks in this professional artist's subject; you need look no further than to his handling of clouds, light play over water, gradation of colouring from the horizon. His treatment of an ocean wave at all its stages of development and to the water's edge is a good lesson in control and the luminosity of this master's stroke. I doubt there is any better artist when capturing moving and still water!
Artists Statement
Through the medium of soft pastel, and using an 'edge to edge' technique, I hope to bring an intimate reflection of our beloved coastline, oceans, rivers, hideaways and enchanting spots.
I have always appreciated the jewel-like qualities of moving water- their hypnotic effects of the eye and their sparkling, cleansing feel. Through adapting a palette to suit the seascape, an almost unlimited vocabulary of flicker, refractions, shadows and reflections, merge to give me the desired finish.

I believe pastel can achieve much more than any other medium in creating alluring scenes. Even today my desire to discover more about this ever-changing subject grows more and more.
My love of water and natural beauty in all its facets has drawn me back time and time again to, hopefully, discover more of its hidden charms.
CHG Director's Statement
Several years ago I arranged for Rod Bathgate to do a workshop for secondary students who had an interest in art, of which some were studying the subject and other were just enthusiastic. In attendance was the art teacher and a couple of parents. It reminded me of 'Mr Squiggle' series on Children's TV during the 1960-70's. It was fascinating how a comic puppet like figure would draw a picture from a basic line on paper.

Rod had the kids and audience hanging on every pastel line he drew, which way was it going and the energy he expressed as he guided the medium, shaded the colour- all the time working towards an subject only he knew!

So where does this story lead? It gave me the first hand observation of Rod's brilliance with medium of pastel on paper. It showed me the intuitive ability he had with the skill he had to manipulate the medium to get the desire composition/subject. Another sign of a professional artist was the apparent ease he showed when painting and drawing. I joked with a friend when describing his painting skill the other day ..."Rod can paint upside down and underwater"

Working on any subject be it portrait, figurative, landscape, seascape, historical never seems to bother him; he is comfortable with any theme no matter what medium i.e. mixed media, pastel or oil paints. Rod's work is perhaps most recognised for his reflections, light on shallow water, translucency of light play particularly through water.

A University of Newcastle arts graduate he has been an artist who knows the direction of painting he wants to pursue.

Rod's love of the local Newcastle to Forster coastline is a constant wealth of material to paint. However his iconic cartoon series often drawn from local identities or Disney like characters contrast with the Australian History themes. Portraiture is another area of significance for him, something not generally known as it is usually commissioned art.

I would suggest Rod is an under rated artist of our time. His abilities as a draftsman, imaginative creator and overall skill with a range of medium sets him apart. Rod's art potential is sometime limited by the time he has amongst his many family commitments. However his commitment to art is both long term and holistic, so watch where he will take us in forthcoming years with more time to paint.
Artists Education
1980 Diploma in Art, Newcastle College of Advanced Education
1981 Post Graduate Diploma in Art, Newcastle College of Advanced Education
1981 Journeyman certificate in sign-writing, Newcastle Technical College
Prizes
1999 Avalon Art Prize, FJ Browne Award
2000 Wyong Rotary Acquisitive Art Prize
Collections
Fred Hollows Foundation
Hunter Medical Research Institute
Beyond Blue Foundation
Bill Hayden, past Governor General of Australia 1989-1996.
Sumitomo Steel, Japan
German Steel
Carrington Coal Company