Introducing
John Maitland | CHG Represented Artists
John Maitland is seen by some as being "one of Australia's most exciting artists" 
John Norris – Director, Prime Arts Publishing UK.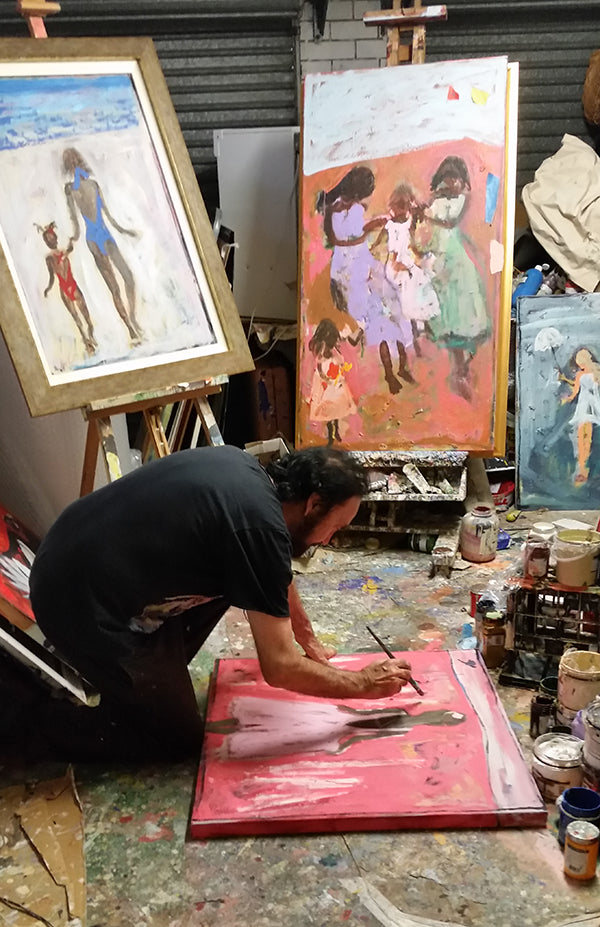 About The Artists
A humanitarian, religious man, huge compassion for people, a family man and artist. A huge human being.
Artists Statement
My skillfully executed oil and acrylic paintings are informed by figurative expressionism. They are imbued with rigorous colour and texture to denote emotive nuances. The works achieve poignancy through a unique perspective which resonates throughout my cohesive presentation. The built-up layers in my paintings are encouraged to crack and fissure which gives an aged archaic like surface. Broad, sweeping brushstrokes and strength of paint application evoke a rawness and beauty in an understated way. Painting in such a way that the viewer feels emotion at its purist, identifying and personifying themselves and their own story through my work…that is my ambition…that is my art.
CHG Director's Statement
John Maitland's most recent works reflect the influence of Byzantine art and can be described as 'highly decorative'. They are heavily weighted with colour and texture featuring midnight black and aurora gold with bold demarcations within each piece. Although the artist has been strongly influenced by the religious icons of Russia and Greece he has perfected his own unique way of using these strong evocative colours to bring life to his work.

John seeks to evoke a contemplative mood. One prominent art journalist commenting on his earlier work in 'A Tribute to Mary Mackillop,' said, 'One could be moved to prayer in its presence...'

The artist hopes his audience is moved in a similar way by these works.
John Maitland's Exhibition from 2010 was structured around the theme of Mary MacKillop, a champion of the poor and oppressed. John tends to paint Mary in prayer/eyes closed, he believes this allows for a more intimate communication between the subject and the observer. The artist represents her as a go-getter, a worker and a doer, a woman not afraid to roll-up her sleeves and get stuck into hard work. Most pieces depict her with a child or children, concern for those children living in poverty in early Australia being Mary's driving force. Mary's own account of an Aboriginal girl named Nancy, a child abandoned, destitute and dirty whom she met in her youth, awakened her soul and taught her 'you have to look further than the snots on the kids faces!'
Awards
Beenleigh Art Competition 1990 1st 2nd and 3rd place

Maclean Art Competition 1st 2nd 3rd Place and Excellence Award by
Angela Wong Director Grafton Regional Gallery

Prime Art Excellence award
International Print of the Year Competition, Amsterdam Second place

Mary MacKillop, A Tribute,' exhibition: selected as a top ten finalist, work selected from the exhibition for printing, selected as the official promotion and prayer card for
Australia World Youth Day

Picasso Matisse exhibition -Work selected for video alongside exhibition

Prime Art Publications, England -Work selected for publication and video

World Trade Fair London -Work selected for promotion

City Hall Brisbane - Stage Production produced and created which was inspired by the work 'Nothing could come between her and a child in need'.

Official Website for Mary Mackillop Canonisation -Work selected as the official image

Galt Publication Canada - Work selected for special publication by company two consecutive years

ACU - Work selected and used in St Peter's Square Rome for Mary Mackillop canonisation

St Stephens Church - Work used for Mary Mackillop anniversary
Sisters of Saint Joseph Sydney

Work selected for DVD cover

Work selected to mark Mary
Mackillop's anniversary

Work selected for prayer cards for
Sisters of Saint Joseph

Work selected for invitations Mary Mackillop
Solo Exhibitions
Selected solo exhibitions

A WHITE PATCH GALLERY 1994 - 2005

GALLOWAY GALLERIES 1990 -2007

RED HILL GALLERY 2007- Present

GALLERIES AT THE WENTWORTH 2005 - Present

COOKS HILL GALLERIES 2005 - Present

ART NUVO 2007 - Present
Grafton Regional Gallery 1995
Collections
Recent ACQUISITIONS

Queensland Catholic Education Commission

St Mary's College Ipswich Queensland

St Thomas More College Sunnybank Queensland

Marymount College Burleigh Heads QueenslandPresent

ART NUVO 2007 - Present
Grafton Regional Gallery 1995
Education
Advanced Level Fine Arts - Kings
College, University of Newcastle Upon Tyne

Engineering - Charles Trevelyan/Newcastle College

Print making - Grafton
Publications
PRIME ART U.K 1998 -2014
Artworks publicised and printed and news articles featuring works printed.

COURIER MAIL / SUNDAY MAIL April 27 2008
Full page editorial

MAIL /SUNDAY MAIL July 12th 2009
Full Page Art Editorial CANVAS
DANCES INTO LIFE
'Mary Mackillop 100' Concert Brisbane City hall catalogue / Banners and Imagery inspired from same work.

CATHOLIC LEADER
Numerous articles featuring works relating to Mary Mackillop

NEWCASTLE HERALD
Full page article, Maiden exhibition for Cooks Hill Galleries

AURORA 15 November 2010

GOLD COAST BULLETIN 16 October 2010

ARTWORLD by Marina Saint Martin
Giving Back
Wentworth Gallery Solo Exhibition – Charitable Auction – Proceeds donated to the Children's Hospital at Westmead Eye Clinic.

Art Nuvo Solo Exhibition – Fundraiser for family of coward punch victim. All proceeds donated to family.

St Augustine's Primary School – Guest Speaker to Students about making dreams come true.