Introducing
Tracey-Maree Smith | CHG Represented Artist
"My paintings have their own soul and have their own way of coming out and I am just a conduit of that. I paint from the heart. I listen to my intuition."
Tracey-Maree Smith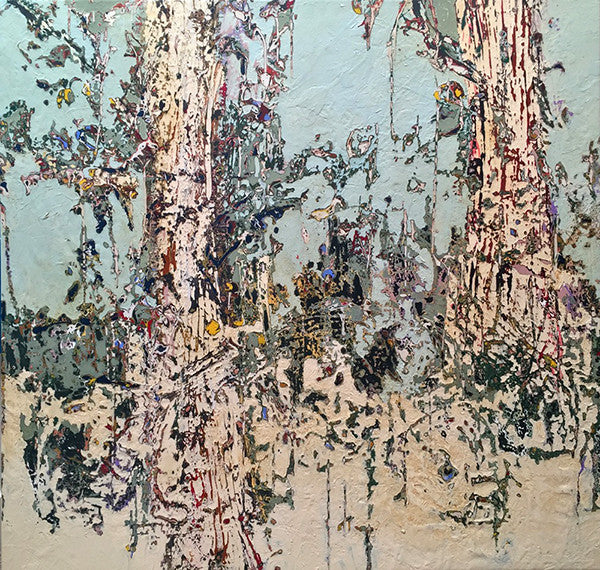 About The Artists
Newcastle based contemporary artist Tracey-Maree Smith was recently selected as an Art Gallery NSW 2016 Wynne prize finalist for her work 'First Creek, Redhead Beach' (pictured). The Wynne prize is one of Australia's most prestigious art awards and awarded for Australia's best landscape painting. In 2014 Tracey was included in the Saatchi Art 'Showdown'. Tracey has exhibited extensively, with her work hanging in public and private collections.

Tracey's abstract contemporary works appeal to art collectors, whether it be those seeking a major showpiece for their home, office or an addition to an existing collection.
Artists Statement
"I engage in art as an attempt to bypass the intellectual, to tear apart and peel back the self imposed veneer—almost brutally at times. And, with hope, reveal a consciousness that has no predetermined idea or thought sequence. I want to eliminate the falseness and limited intelligence of thought and expose the beauty and truth of feeling and absolute knowing which comes from the heart. The process I use is a metaphor for my own continual transformation.
I begin my expression with excessively thick layers of paint and colour as representations of ego and identity. This process has no real basis in reality but is a construct of my beliefs— both cultural and personal. The initial layering of paint is a quick, reckless process tinged with fear, doubt and calculation, again a metaphor for life's moments...but it is the courage to remove the initial unconscious past that gives my art depth and connectedness. I then attempt to peel back these false layers using the often harsh, graceless process of elimination. This is where time consumes me—within the very physical process that is my transformational practice.
Sometimes it is painful, and emotionally revealing. At other times it is joyful, passionate and tender. My ultimate desire is to connect, to myself primarily and to live and create without regret or fear of consequence."

Tracey-Maree Smith, 2016.
Education
1988–1989 BA Communications Newcastle University
1989-1992 BA Arts (Graphic Design) Newcastle University
1994 Award School Sydney
2002-2004 BA Arts, Visual Arts Newcastle University
Professional Career
1992-1995 Graphic Designer Peach Advertising, Newcastle
1995-1996 Graphic Designer Horniak & Canny, Sydney
1996-2002 Director, Founder and Creative Director/Design satellite ink
Exhibitions
2003 Group exhibition Newcastle University Watt Space Gallery
2011 Joint Exhibition Tyler Gallery, Islington Newcastle
2013 Solo Exhibition Truevision Gallery Redhead
2014 Finalist (top 30) in Saatchi Art 'Showdown' competition 'In Glorious Colour'.
2015 Joint exhibition Cooks Hill Galleries, Newcastle NSW Australia.
2015 Joint exhibition Cooks Hill Galleries, Newcastle NSW Australia.
2015 Joint exhibition The Production Hub Newcastle NSW Australia.
2016 Solo exhibition Cooks Hill Galleries, Newcastle NSW, Australia.
Awards
2017 Finalist in the Gosford Art Prize 
2016 Finalist in the AGNSW Wynne Prize
2014 Finalist (top 30) in Saatchi Art 'Showdown' competition 'In Glorious Colour'.
1996 Highly Commended AGDA design awards
Publications
https://artaffair.com.au July 14, 2016
Newcastle Herald 7 Jul 2016
Newcastle Herald 11 June 2016