Introducing
Del Kathryn Barton - Artist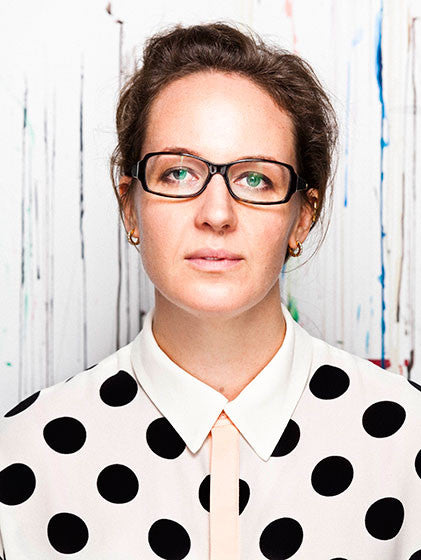 About The Artist
Well decorated with two 'Art Gallery of New South Wales' (AGNSW) 'Archibald Prizes' (2008 & 2013), Del Kathryn Barton has transitioned from an emerging artist to a top Australian artist over the last decade. Barton trained in Fine Arts at the 'College of Fine Arts', University of New South Wales, in 1993. She later became a lecturer at the same college.
Barton's work is known for its figurative and vibrant characteristics. Her prize winning self-portrait "You are what is most beautiful about me, a self-portrait with Kell and Arella" is painted with synthetic polymer paint, gouache, watercolour, pen, glitter and sequins. These are also used in her other works, where Barton combines traditional painting techniques with modern art and design.
Del Kathryn Barton's group exhibitions include: 'Like-ness', Albertz Benda, New York, USA; 'Express Yourself: Romance Was Born for Kids', National Gallery of Victoria, Melbourne; 'Half a World Away: Drawings from Glasgow', Sao Paulo and Sydney, 'Hallwalls Contemporary Arts Center', Buffalo, New York; 'Dark Heart', Adelaide Biennale of Australian Art, Adelaide; 'Theatre of the World', Museum of Old and New Art, Tasmania; 'Lightness and Gravity', Queensland Gallery of Modern Art, Queensland; 'Freehand: Recent Australia Drawing', Heide Museum of Modern Art, Melbourne; and the 2009 'Wynne Prize for Landscape', Art Gallery of New South Wales, Sydney.
In March 2015, Barton's "In Night Too 2012" was auctioned for $200,000
"My drawings are made of highly personalised symbology…there is an energetic visual quality in the repetitive pattern" – Del Kathryn Barton
Along with being a phenomenal painter, Barton is also very talented in moving pictures. "Oscar Wilde's The Nightingale and the Rose" was produced by Barton and premiered at the '65th Berlin International Film Festival' in 2015. It was also shown at the 2015 'Melbourne International Film Festival' and won the 'Film Victoria Radio Award' for Best Australian Short Film.
Del Kathryn Barton won the AGNSW 'Sulman Prize' two years after graduating with a 'Bachelor in Fine Arts'. Since then, Barton has exhibited in numerous solo and group exhibitions Australia-wide. Some of her solo exhibitions include; 'The Nightingale and the Rose', Australian Centre for the Moving Image (ACMI) and Heide Museum of Modern Art, Melbourne, Australia; 'The Highway is a Disco', ARNDT, Singapore; 'The Stars Eat Your Body', Kaliman Gallery, Sydney; 'The Whole of Everything', and 'Thank You for Loving Me', Karen Woodbury Gallery, Melbourne; and 'Electro Orchid', Roslyn Oxley9 Gallery, Sydney. Barton is represented by Roslyn Oxley9 Gallery, Sydney.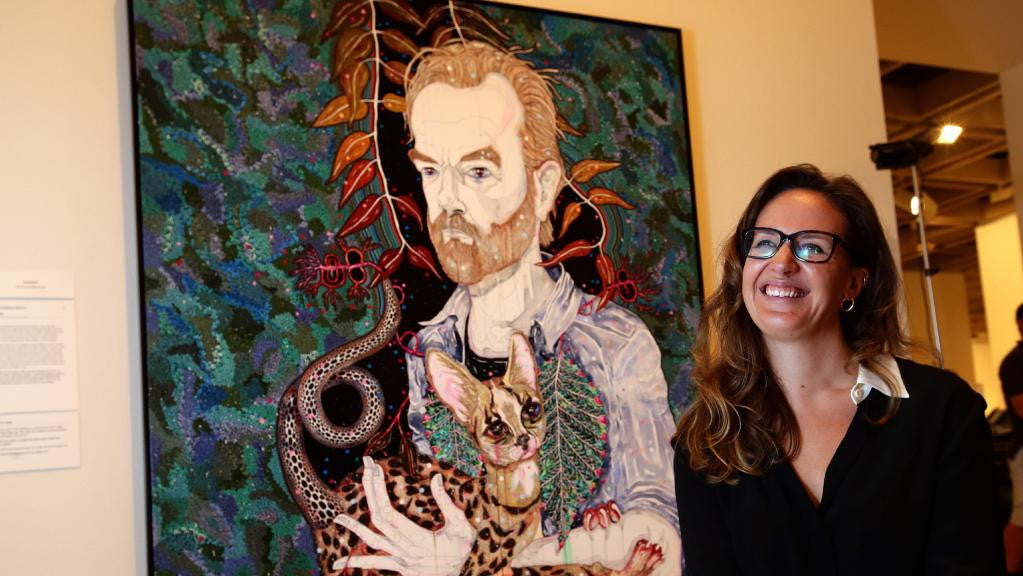 Del Kathryn Barton's 2013 Archibald prize-winning portrait of Actor Hugo Weaving.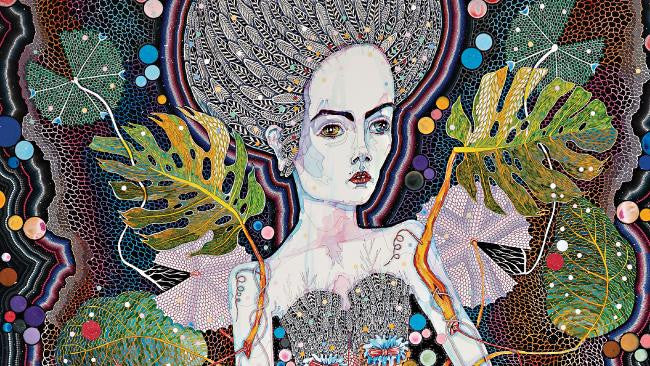 Sapling 2014, Del Kathryn Barton