Introducing
David Bromley - Artist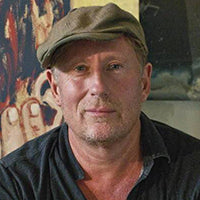 Introducing
About The Artist
Born in Sheffield, England, David Bromley immigrated with his family to Australia at the age of thirteen. A keen illustrator, he had his first sketch published in the local newspaper when he was sixteen and went on to produce a weekly comic strip focusing on local matters.
Emerging on the Australian art scene as a self-taught painter in the mid 1980s, David Bromley is now named among Australian Art Collector's 50 most collectable artists, his works inspired by books from his own childhood and pop culture artists such as Andy Warhol and Roy Lichtenstein.
David Bromley's style is infused with graphic intention, bold colour and high texture brushwork, often featuring eye-catching gold and silver leaf overlays.
Bromley's most popular artworks are his iconic Female Nude series and the Boy's Own works. The former combines the tradition of portraiture with a contemporary view of femininity to produce strong, seductive pieces. With bold colours contrasting between subject and background along with heavy layering and texturing, the Female Nude works offer a refreshing change from conventional female portraits.
The Boy's Own series draws inspiration from Boy's Own Annuals and vintage magazines to present the excitement and adventure of childhood. Vivacious colours and figurative expressionism are used to inject the works with energy and depict the intensity of adolescent life. A sense of nostalgia and adventure coupled with Pop Art symbolism infuses the works with the innocence of children and the feelings of joy often associated with the early years of life.
Bromley is a five-time Archibald Prize finalist and has had more than 30 national solo exhibitions since the beginning of his career. His works have also been shown in Tokyo, Paris, London, Singapore and New York and appear in many private and corporate collections across Australia including the state galleries of Western Australia and South Australia.
Increasingly in demand as a portrait artist, Bromley has painted several Australian celebrities such as actor Hugo Weaving, singer Kylie Minogue, model Megan Gale and arts patron Kim Bonython.
In recent years, Bromley has diversified his work to include furniture and interiors. Included in his latest offering for an interior design gallery in Melbourne are large wallpaper murals and customised Classical French and industrial antiques.