Introducing
Brett McMahon | CHG Represented Artists
"Brett McMahon's art has a contemporary feel that sits well within architectural and modern-styled environments." 
Mark Widdup.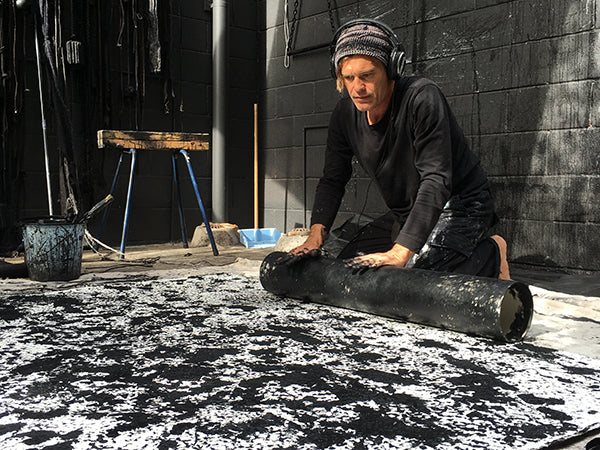 About The Artists
"YOU have got to walk back through the eye of the needle to really discover who you are," says Newcastle artist Brett McMahon.
He is describing the process of exploring early life experiences, those that come back to imbue his work.  First there is the drawing, something which has been with him since childhood. "I've always drawn. My uncle was a drawer," McMahon said. "There is this drawing linage that goes through my father's side of the family.  "My son, Ariel, has it as well. He is a pen and ink drawer."  "I guess that's why my work is predominately black and white, it's all about that background of drawing." 
There are other more obscure experiences that flow into the work – time spent in Indonesia's dyeing factories. McMahon visited them while employed as an artist for surf company Kuta Lines. But the most evident influence is his childhood coastal environment. 
McMahon grew up in Whitebridge and was a keen surfer at Redhead. At about 19, with out any formal art training, he set up an art studio in his parent's backyard.   "I can distinctly remember a time when I went 'I'm really going to give this a go and really focus on this'".  "I felt like I really had to work hard, I had a lot of catching up to do and I was conceptually naive. "I had to commit and develop work ethic around my work. "I was lucky enough to have a couple of artists from Sydney take an interest in my work." 
He moved to Sydney, by which time painting had become part of his practice. He was eventually signed to Ray Hughes Gallery.  "They were very productive years. I was living in the city and the works were around city based subjects," he said. "Surry Hills, Darlinghurst, Newtown, that was my world for all that time. 
"Things changed when I began to spend more time up here [Newcastle] and began to explore the landscape of when I was a kid." Revisiting the Awabakal Nature Reserve, Dudley and Redhead triggered an new appreciation. "As an adult you realise how beautiful it is and what a special bit of coastal bush is there," McMahon said.  "And there was the rock platform which I never explored as a kid cause I was too busy looking at the surf.  "Rocks were just something between me and the water."
These themes and ideas are still developing within his current body of work and McMahon said there will be more works on these ideas to come. 
'Brett McMahon's eye of the needle and his art'
Melinda McMillan -Newcastle Star
April 12 2018
Artists Statement
ˌɪntəˈtaɪdəl

…of or relating to the zone of the shore between the high-water mark and low-water mark  

One of the luxuries of living in Newcastle is the ability to access nature on a daily basis.

For me, this means trekking down to South Dudley rock platform to search for patterns and structures or exploring the stretch between Merewether and Bar beach during and after big seas or wild weather when all sorts of matter, organic or otherwise, gets deposited on the sand.

The visual possibilities are endless, and each storm, or change in the sea brings new opportunities…the shifting colours reflected from the water's surface, days where black sun-dried kelp wrack covers the beach, or when it has been swept clean and the waves leave sequences of overlapping lines in the sand, or shallow pools that evaporate leaving rings of salt on the rock platform.

Underlying the observed physical material, is the sense of time, and that things are always in a state of change, sometimes incremental, sometimes sudden and dramatic.

The work presented in the exhibition 'Intertidal' at Cooks Hill Gallery records some of the material that I have encountered over the past 12 months while waking the sand.
CHG Director's Statement
Brett has an established reputation in both Sydney and Newcastle. Many Novocastrians are especially aware of his high-profile sculptural form design, as seen on the façade of the new Newcastle Courthouse, located on Hunter Street.

McMahon's art is founded in observations of both land- and seascape. Upon viewing his work, I respond to the subtleties and character Brett draws from weathered and stressed surface variations. He understands the colours and feelings revealed by time, age, distress and deterioration.

Brett's individual vision is revealed in his colour variation, highlighting and texturising. He is seduced by a softness of colour and his work is often recognisable by its lack thereof.

Contrast dominates, rather than colour, as Brett makes use of its subtlety through soft greys, browns, charcoals, and black and white. This contrast culminates in a depth of perspective and form within his compositions.

McMahon's choice of medium; paper, board and linen canvas, furthers the texture of the piece and allows an increased depth of the objects within his works.

McMahon's art has a contemporary feel that sits well within architectural and modern-styled environments. There is a restrained influence from Asian art compositions, identifiable in his use of space surrounding a focal point of a subject, but Brett's compositions are completely Australian influenced. His work will attract minimalist minded collectors and those that enjoy a space and balance with a composition.
Exhibitions
2018 Intertidal, Cooks Hill Gallery Newcastle
2017 Elemental, Annandale Galleries Sydney
Baroque and beyond, Newcastle University NSW
Taman Bahagia, NKN Gallery Melbourne
2016 Forest, Curve Art Space, Newcastle NSW
2015 Meanwhile / However Brett Mcmahon and Rowena Foong
The Lock Up, Newcastle NSW2015
Distillation – The art of Brett
McMahon, Newcastle Art Gallery NSW
Hidden Nature, The Lock-up, Newcastle NSW
2010 Bombala Track, Rex Irwin Gallery, Sydney
2009 Sea Dog, Liverpool Street Gallery, Sydney
2008 Awabakal, Liverpool Street Gallery, Sydney
2006 Old North Road, Ray Hughes Gallery, Sydney
Paintings of Industrial Newcastle, Newcastle Regional Art Gallery, Newcastle
2005 Paintings of Newcastle & 100 Views of the City,
Ray Hughes Gallery, Sydney
2003 Ray Hughes Gallery, Sydney
2002 Ray Hughes Gallery, Sydney
2001 Ray Hughes Gallery, Sydney
2000 Shadowlands, Sir Hermann Black Gallery, University of Sydney
1999 King Street Gallery on Burton, Sydney Chapman Gallery, Canberra
Charité Saint Eutrope, Gordes, France
1998 King Street Gallery on Burton, Sydney
1997 King Street Gallery, Sydney
1996 Chapman Gallery, Canberra Olsen Carr Gallery, Sydney
1994 Mary Place Gallery, Sydney
1993 Chapman Gallery, Canberra
1992 Blaxland Gallery, Sydney  
Collections
Artbank
Allens Arthur Robinson
JP Morgan Chase
Dubbo Regional Gallery
Lake Macquarie City Art Gallery
Macquarie Bank
Newcastle Art Gallery
University of New South Wales, Sydney
University of Sydney Union Collection
University of Technology, Sydney
University of Sydney
Private and corporate collections in Australia, Europe and the USA
Public Art
2016 NSW State Courthouse Building, Newcastle in conjunction with Cox Richardson Architects and the NSW State Government
Publications
2018 Forces of nature Victoria Hynes Asian Art News
Brett McMahon Victoria Hynes
Australian Art Collector
2017 'Newcastle artist...Brett McMahon' Sebastian Smee the Sydney Morning Herald 'Master works on view' Jill Stowell Newcastle Herald
'Taman Bahagia - in conversation' Sebastien Smee NKN gallery Melbourne
2016 2015 Brett McMahon, Newcastle Herald, Jill Stowell
'Brett McMahon rides high tide' Jill Stowell Newcastle Herald
'Distillation – the art of Brett McMahon' Gina Fairley, Artshub.com.au
'2015...' Gina Fairley, Artshub.com.au
'The Afterlife of Things' Sebastian Smee Catalogue essay, Newcastle Art Gallery
'Hidden Nature – in conversation' Sebastian Smee and Brett McMahon Catalogue essay, The Lock up contemporary art space.
'The Peter Elliot Collection' Gavin Fry, The Beagle Press
'The Macquarie Group Collection" Julian Beaumont, UNSW Press
Steve Meacham, 'Artist finds Nature ...' The Sydney Morning Herald, 11 October Sebastian Smee, Sea Dog Catalogue Essay
Sebastian Smee, 'Forget Me Not', The Australian, 5 April
Robert Kennedy, 'Salon des Refuses', State of the Arts, 2 April Sebastian Smee, 'The Best ...', The Australian, 8 March
Sebastian Smee, 'Out of the Abstract', The Australian, 6 March
Lisa Slade, 'Weekender', The Newcastle Herald, 11 February
Allyn Hamonet, Sun Herald, 22 January
John McDonald, 'Spectrum', The Sydney Morning Herald, December Sebastian Smee, The Australian, 9 May
John McDonald, The Sydney Morning Herald, 7 May
Tracey Clement, Metro, The Sydney Morning Herald, 6 May
Victoria Hynes, 'The Sydney Magazine', The Sydney Morning Herald, April Elizabeth Fortescue, 'Sydney Live', Daily Telegraph, 14 April
2003 'The Sydney Magazine', The Sydney Magazine, November