Introducing
Ian Fairweather - Artist (1891-1974)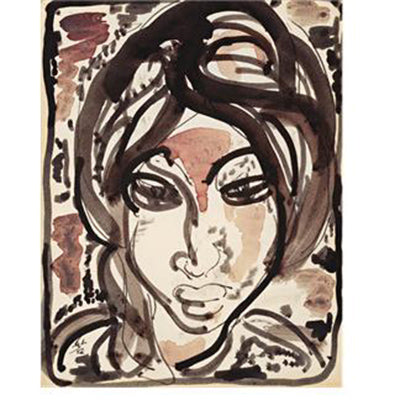 "Woman, Cairns" by Australian Artist Ian Fairweather
About The Artist
One of the most eccentric and unique characters in Australian art, Ian Fairweather was born in Scotland and immigrated to Australia at the age of 43.
Schooled in Jersey and London, Fairweather showed an interest in adventure, philosophy and drawing before enlisting in the British Army in 1914. Serving in World War One in Dour, France, he was captured by Germany as a prisoner of war and spent four years in various camps, illustrating prisoner of war magazines and learning Japanese.
After being released at the end of the war, Fairweather decided to become an artist full-time, undertaking studies in Chinese calligraphy and oriental art in London and travelling extensively through Asia, Europe and Australia, taking inspiration from artists and scenes he met with along the way.
Fairweather used Bali as a platform in 1932 to visit Australia, making his first imprint on the Australian art scene in Melbourne where the extraordinary quality of his paintings impressed local art critics and he was commissioned to paint a mural for the Menzies Hotel. After working on the mural for six months, Fairweather traveled to Cairns, and unable to find work, lived with the local Aborigines. Here he produced his first paintings of Australia - landscapes and portraits featuring the local inhabitants and situations from daily life. An abstractionist at heart, Fairweather combined calligraphic eastern influences with portrait work to become one of the first artists to depict the local people without condescension, as in one portrait from this period, Woman, Cairns.
In a show of his love of excitement and adventure, Fairweather set out on a solo raft journey from Darwin to Timor in 1952, only to be deported by Indonesian authorities that sent him back to London. The following year, he returned to the Pacific, building a thatch hut on Bribie Island where he would live for the rest of his life, ending three decades of relentless travel. From extremely rudimentary living conditions, Fairweather produced his most critically acclaimed works, including The Last Supper (1958), in which he merged aspects of Chinese calligraphy and elements of contemporary European and oriental art to create a masterpiece of Abstractionism. Often using whichever materials he found around his hut, The Last Supper was painted on three sheets of paper laid on hardboard. At one point, his art dealer sent him supplies of good quality canvases as the Macquarie Galleries were growing tired of accepting works finished on scraps of paper and masonite.
In 1973, Fairweather's contemporaries awarded him the International Co-operation Art Award for his extraordinary contribution to Australian art and his works are exhibited in all state galleries in Australia, The National Art Gallery, Canberra, The Tate and Leicester Gallery in London and The Ulster Museum, Belfast.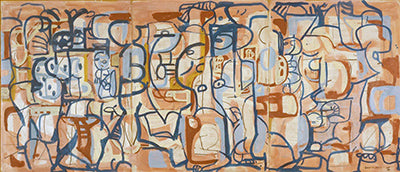 "The Last Supper" by Australian Artist Ian Fairweather