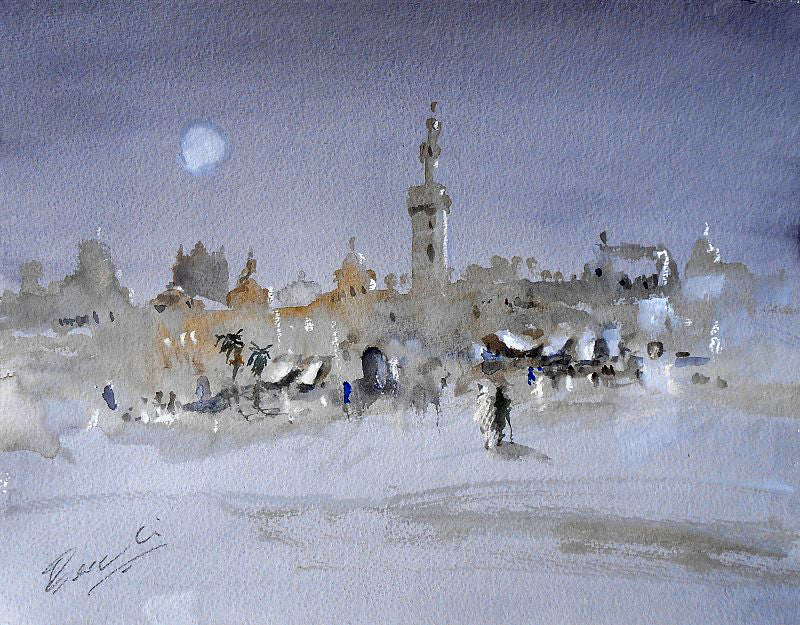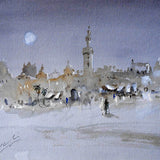 Market Traders - Tangiers
Artist Statement: A thought turns into a dot. A dot turns into a line. A line turns into a painting… That's all I know about art. HELP!!!

This latest collection of my art, I find rather difficult to explain. It just sits there in frames... as we all do, one way or another. My work speaks of both memories and present musings. The inspiration for most works comes from my sketchbooks – all 56 of them to date! Plus jottings on restaurant napkins, envelopes, backs of bills and scraps of paper that I had doodled or drawn on over the years. Thus, this collection is not only of now, but also of the past, found in the memories and drawings from Morocco, London, Paris and many other places I have journeyed. The work itself is uncannily becoming more and more obscure, presenting itself as a fight with light and atmosphere as much as with the subject matter. I find painting obscurity difficult, yet painting reality seems unnecessary to me – it already exists! I realise that the point when you put brush to paper matters. But the point you decide to pick it up, matters even more.

Medium: Watercolour on paper
Dimensions: 32 x 45 cms
Date: 2010
Condition: Good

CHG Director's Statement: David Beschi brings to Cooks Hill Galleries a traditional technique of watercolour not focused or lost by the art schools in Australia today. He has a confidence and vision rarely seen by water colourist of our time plus he has the ability to retain the image he wishes to paint without the aid of drawing up the composition. This ability is rare as with his confidence in and of, the medium's limitations.
Watercolour is not a medium appreciated by all, however I urge you to see David Beschi's paintings. If you like them, look for the spontaneity and freshness. Buy, because you like them and enjoy the subject. On the other hand if you can't get it; please call me to guide you through the watercolour experience!
RELATED SERVICES
If this artwork is SOLD or ON RESERVE and you would like to BUY art by this artist please contact us here. 

If you would like an APPRAISAL or VALUATION for art by this artist please use our online valuation service here.

If you would like to SELL art by this artist please contact us here.
---
Market Traders - Tangiers