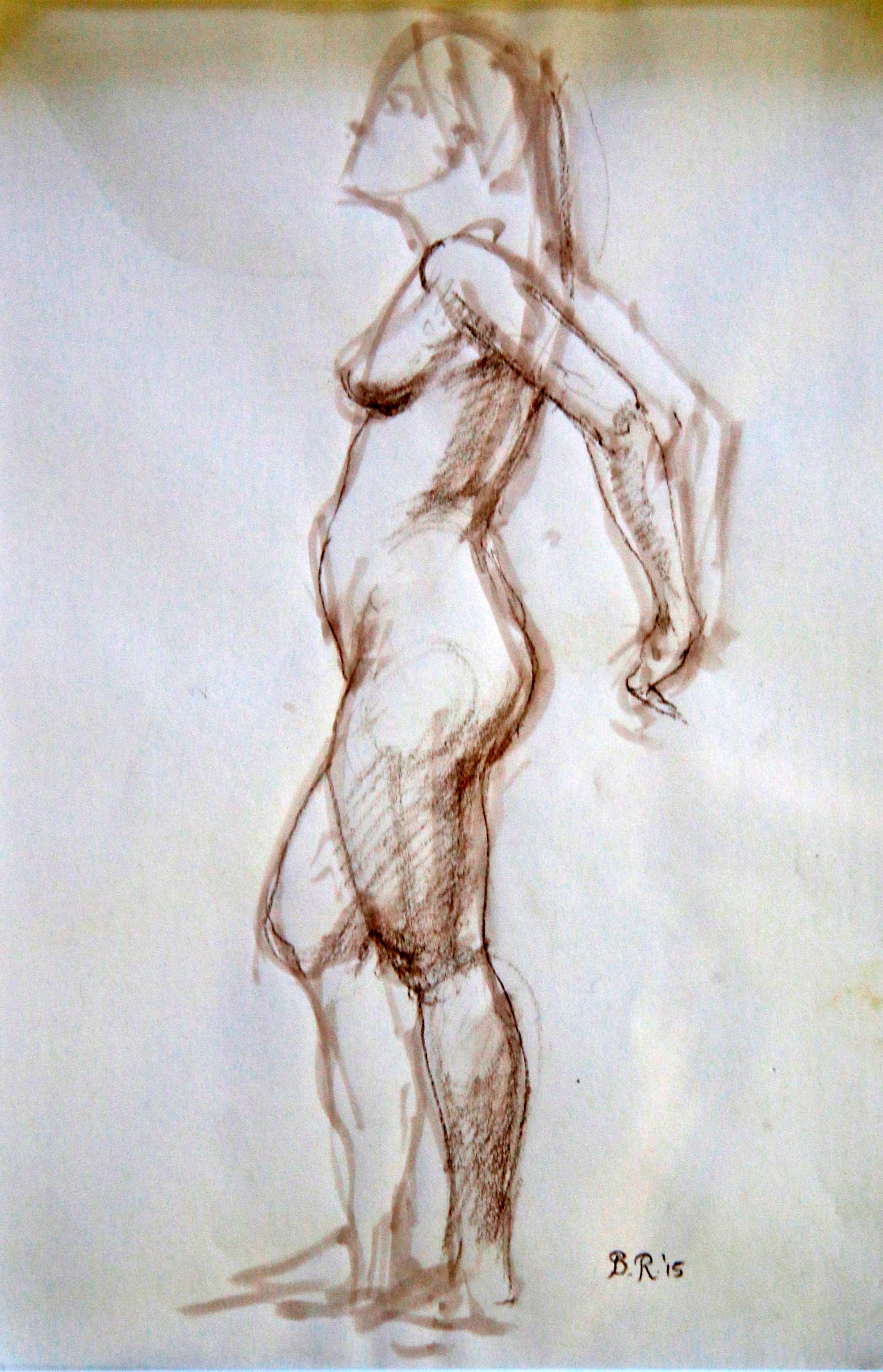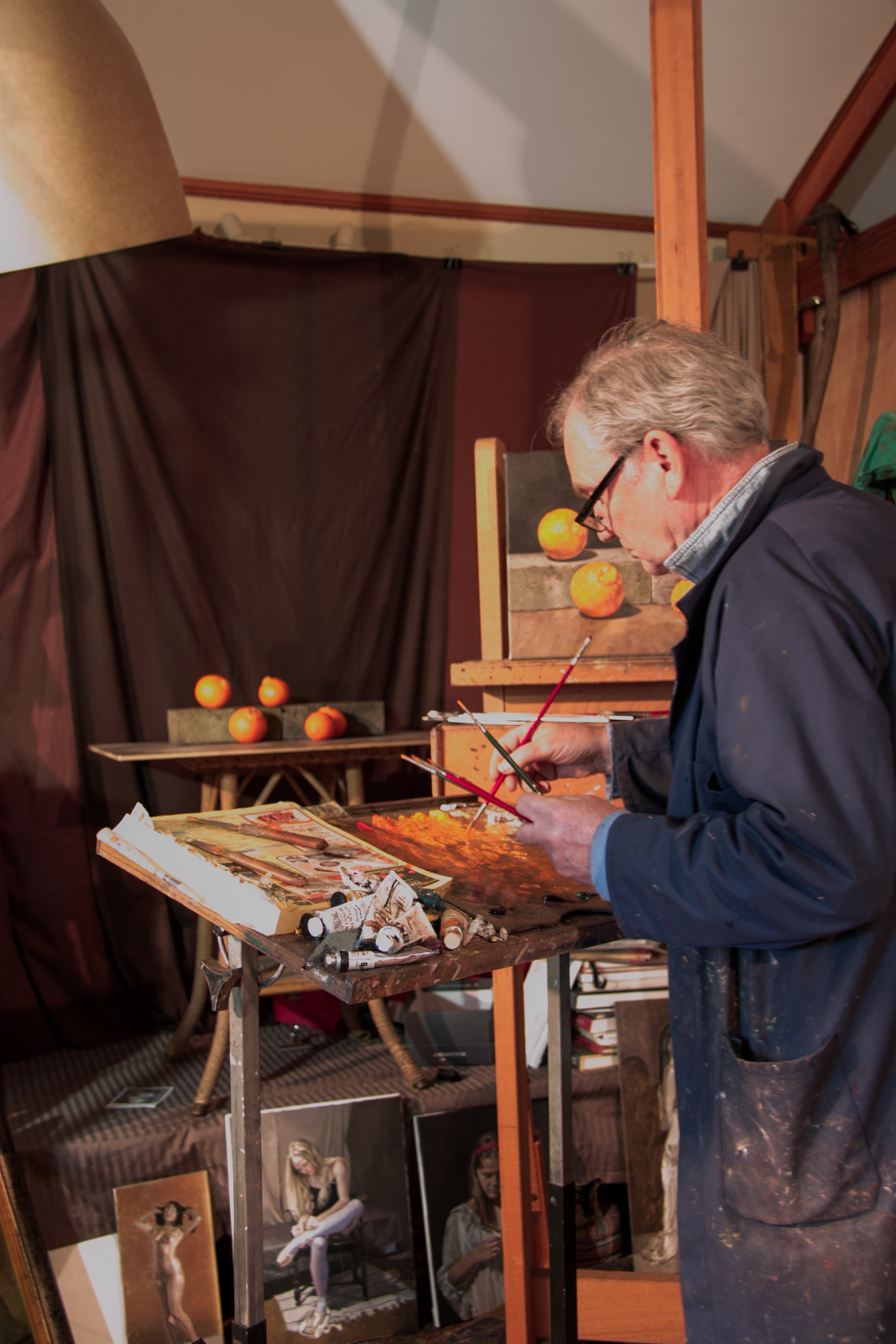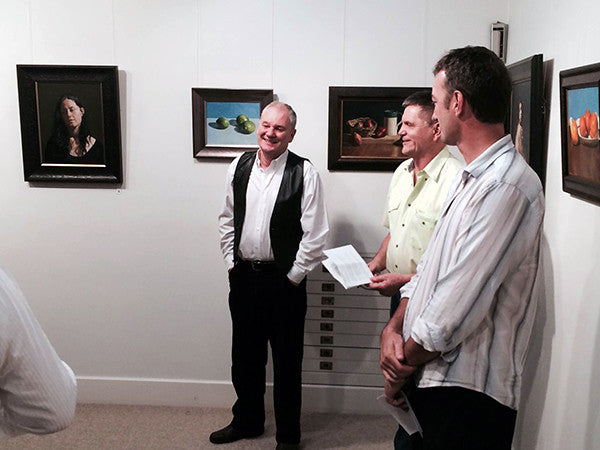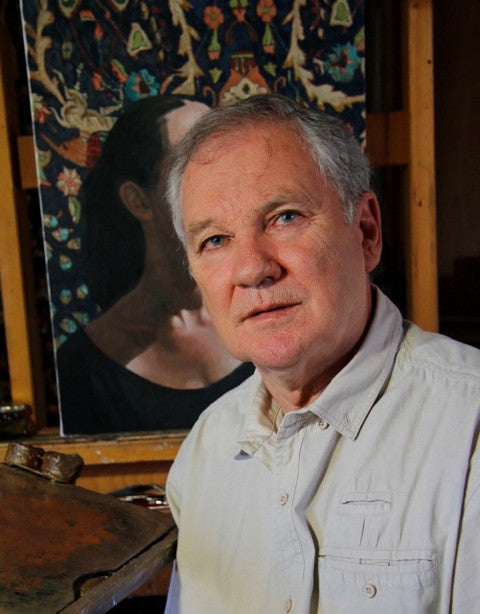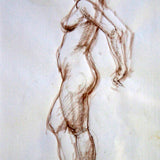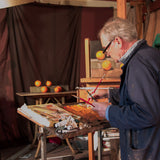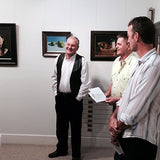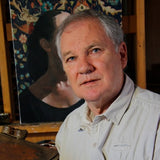 Standing Side View (Pledge)
Artist Statement: The work for this exhibition is based on experiences and knowledge gained from touring some of the great galleries of Europe and the U.K.
When you enter a major gallery for the first time, often you are aware of some of the iconic works which are on display. More often than not you are surprised by the scale and the artistic brilliance of the work but also you discover gems of work of which you are unaware. You don't stop and look at every work on display but rather move around looking for paintings that draw your attention. Often I'll have a camera where allowed or alternatively the trusty sketch/note book to record paintings which have appealed to me.
Back in the studio ideas for subject matter and composition are then transformed into my own variation or concept derived from these experiences.
My student training followed the traditional form of study which was based on the British and European Art Schools of the early 20th Century hence the association with "The European Tradition". - Bruce Rowland.

Medium: Graphite Pencil on Paper
Dimensions: 29.7 x 21 cms
Date: 2017
Condition: New

CHG Director's Statement: In a time when one's drawing ability or the studying of art history and tradition are not appreciated, and in a time when attention to detail, and repetitive practice for betterment are less valued, Bruce Rowland remains a constant. Rowland continues to develop artwork from the ground up and refers to the great masters of European art for inspiration.
Bruce Rowland shows a remarkable confidence of the stroke, each brush mark applied with purpose, incorporating light in a fascinating way.
There is an incredible energy in this series of realist paintings that is of the highest quality.

Jocelyn Maughan - Introduction: Bruce has long been inspired by the human nude, a subject explored by artists over the centuries. It is difficult not to compare any figure painting with that of Rubens or Sorolla.
And yet Bruce Rowland's sensitive works stand alone in their excellence.
Life drawing has been an art school subject over many years without questions of its existence.
We humans should be able to relate to the rhythms and responding movements of the 'model' and participate with the abstract geometry that the human body presents
The artist also requires the technical competence to put this on his canvas.
It is marvelous in the true meaning of this word that Bruce Rowland shows you this sensitivity and skill with his own hand.
RELATED SERVICES
If this artwork is SOLD or ON RESERVE and you would like to BUY art by this artist please contact us here. 

If you would like an APPRAISAL or VALUATION for art by this artist please use our online valuation service here.

If you would like to SELL art by this artist please contact us here.
---
Standing Side View (Pledge)