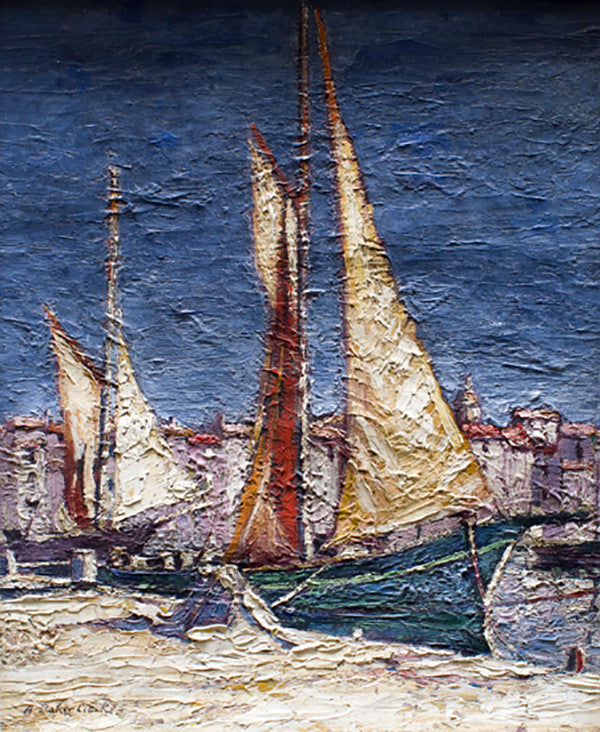 Sailing Yachts in a Mediterranean Sea
Medium: Oil on canvas
Dimensions: 46 x 37 cms
Date: 1920 Circa
Condition: New

CHG Director's Statement: Arthur Baker Clack was an Australian painter who embraced the post impressionist French style. He found great inspiration from the modernist works, particularly those of Cézanne and Seurat.

Baker Clack's style reveals the impressionist influences of his Parisian studies, while demonstrating his skill in colour, resulting in uncompromising vigour paired with a certain boldness and directness. Creating rich, toned and forceful work. 

In 1906 Baker Clack travelled to Paris, where he studied as a pupil of the Australian Kupert Bunny and painter and sculptor Laurens.
After joining the art colony at Étaples in 1910, he decided to stay and live in the region during and after World War I.

Baker-Clack exhibited both in London at the Royal Academy of Arts and Paris subsequently becoming a jury member for the Salon d'Automne and of the Société Nationale des Beaux-Arts. His work is held in many public and private collections in Australia.
RELATED SERVICES
If this artwork is SOLD or ON RESERVE and you would like to BUY art by this artist please contact us here. 

If you would like an APPRAISAL or VALUATION for art by this artist please use our online valuation service here.

If you would like to SELL art by this artist please contact us here.
---
Sailing Yachts in a Mediterranean Sea