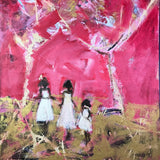 Artist statement: Although the old saying is 'Red sky in the morning, shepherd's warning,' any child will tell you the sky is brilliant shades of pink. In this work three girls tentatively step through the glowing landscape, wallowing in the spell of the sky and screeching cockatoos warning of the coming rain.
Medium: Mixed Media on Canvas
Dimensions: 103.5 x 122 cms
Condition: Good
CHG Director's Statement: John Maitland is considered by some "one of Australia's most exciting artists" (John Norris, Prime Arts Publishing), while his works have been referred to as "possessing the exquisite line and colour of a Matisse".
John Maitland captures children, people, families and indigenous Australians within their environment. His compositions provide insight into the personality of those within his paintings or their connection to the landscape, giving the viewer a yearning for life's simple pleasures. His figurative paintings are colourful, alluring, ethereal, dreamy and command a strong following.
RELATED SERVICES
If this artwork is SOLD or ON RESERVE and you would like to BUY art by this artist please contact us here. 

If you would like an APPRAISAL or VALUATION for art by this artist please use our online valuation service here.

If you would like to SELL art by this artist please contact us here.
---