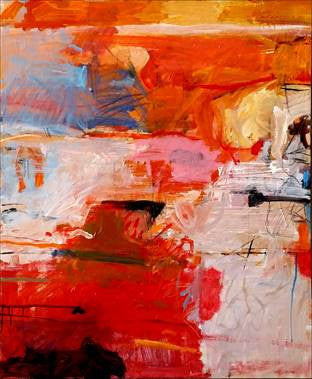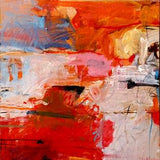 Artist Statement: My paintings are "Playgrounds & Landscapes," an inner experience of freedom and passion not restricted by conventions or boundaries. In my journey as an artist I am inspired to create from the inside out to express my fascination and passion of my inner world.

"Playgrounds in time and space" are my re-occurring themes, divided and separated by space, lines, images, symbols, forms and shapes – composed like a sheet of music in the harmony of a visual symphony.

My canvases are often heavily textured, deeply scarred and evoke the feeling of being sculptured. I use architectural symbols, silkscreen images or include written statements or pieces of poetry to underline our humanity. Bernd Heinrich.
Medium: Mixed media on canvas
Dimensions: 98 x 80.5 cms
Condition: New
Director's Statement: Bernd Heinrich's works are both highly physical (in the complex and rigorous nature of their construction) and highly esoteric. The result is a body of work which makes a well grounded and stimulating contribution to both "Australian Landscape" as an art historical genre, and to "Contemporary Landscape" as a vital element of current international artistic practice.
RELATED SERVICES
If this artwork is SOLD or ON RESERVE and you would like to BUY art by this artist please contact us here. 

If you would like an APPRAISAL or VALUATION for art by this artist please use our online valuation service here.

If you would like to SELL art by this artist please contact us here.
---