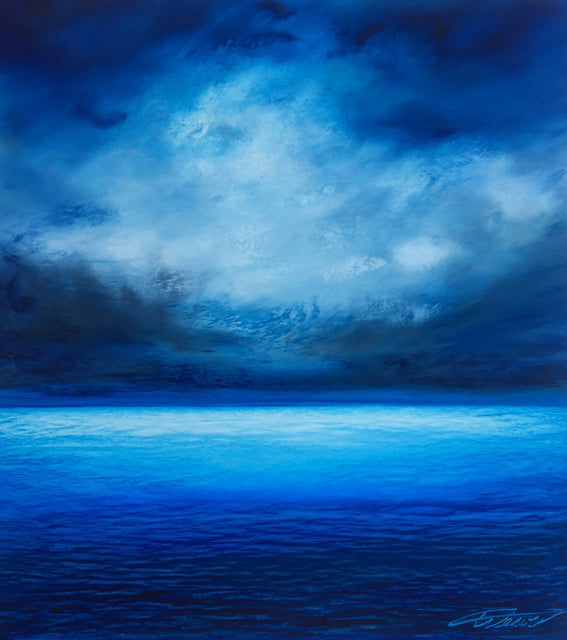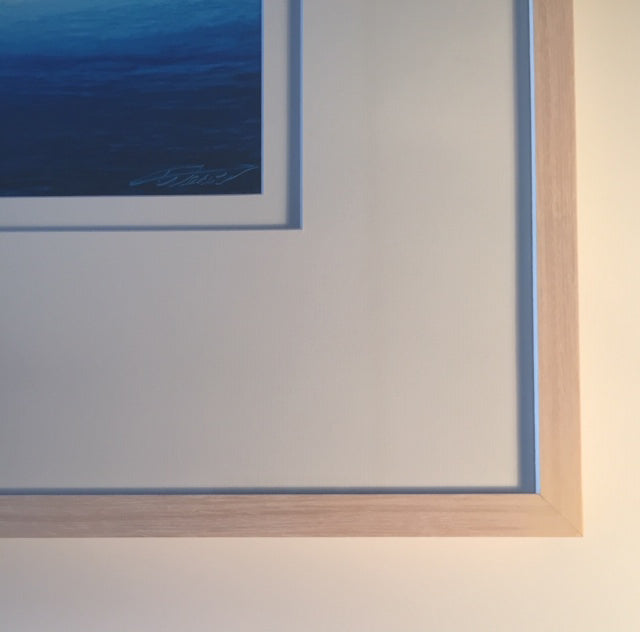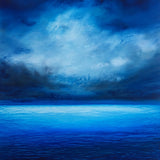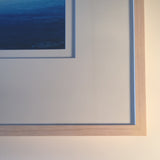 Artist Statement: Moving in a new direction away from the reds in these ocean inspired works. The sky is an ever changing source of ideas and I've been studying the subtle, as well as the dramatic contrasts the sky presents. - Susan Weaver.

Medium: Oil pastel on paper
Dimensions: 34 x 31 cms
Date: 2020
Condition: New

Director's Introduction: Iridescence is the one word that embodies the over-arching effect of Weaver's art. The colours effortlessly glow and radiate, allowing for the central focus of a piece to have more impact.
Weaver's art is almost an optical illusion, where colours are silhouetted. An ethereal land- or seascape is generated by her layering of oil pastel. This medium is not successfully understood by most artists.
A CHG represented artist, Susan's style has developed in more recent times. This improvement of style has seen new colours introduced to her palette alongside an increased complexity of its use and tone. I often wonder how oil pastel can be further developed or enhanced, however, over time, Weaver has managed to pull-off a master stroke with the medium. Susan herself says her 'technique is continually evolving'.
Weaver is an under-rated artist, and I staunchly believe we will see her art as a finalist in competitions very soon. If one is seeking an artist with a distinctive style and technique, that only minimally parallels other artists' works, Weaver will meet your needs. Her application of colour offers the viewer an in-depth sense of richness, something that is always pleasurable to experience. 

Helen Hopcroft Introduction: Standing in front of one of Weaver's images is a unique experience. They hold the gaze, inviting the audience to connect through their luminous hues. Their primary language is one of colour: an intense orange, hot as fire, unifies this body of work. Yet this colour is earthed through a palette that stretches from dark blues, through purple-greys and up into the hot cerulean blue of a perfect summer sky. It is difficult to balance a hue as hot as her signature reddish-orange, yet somehow Weaver manages to do so, cleverly deflecting the heat with a line of cool blue or grey.
The hyper-romantic imagery is another striking feature of this unusually cohesive body of work. Bushfires or volcanic eruptions burst over cool oceans, islands seem to float over the horizon, portals of light open up a vertical passage between ocean and sky. Many of the images speak to a moment of transformation: fire, storm, the giant orb of a full moon blooming in the sky. There is a sense that something is about to change, some truth is about to be revealed, a final destination reached. It is possible to read them as drawing a parallel between physical landscapes and the dream-like landscapes of the mind. With their focus on the meeting of opposites- fire and water, earth and air- they speak to alchemical processes and psychic transformation. They evoke a sense of a something that is unknown yet familiar, an impossible dream that is still deeply felt to be real. Find the full introduction here.


RELATED SERVICES
If this artwork is SOLD or ON RESERVE and you would like to BUY art by this artist please contact us here.

If you would like an APPRAISAL or VALUATION for art by this artist please use our online valuation service here.

If you would like to SELL art by this artist please contact us here.
---