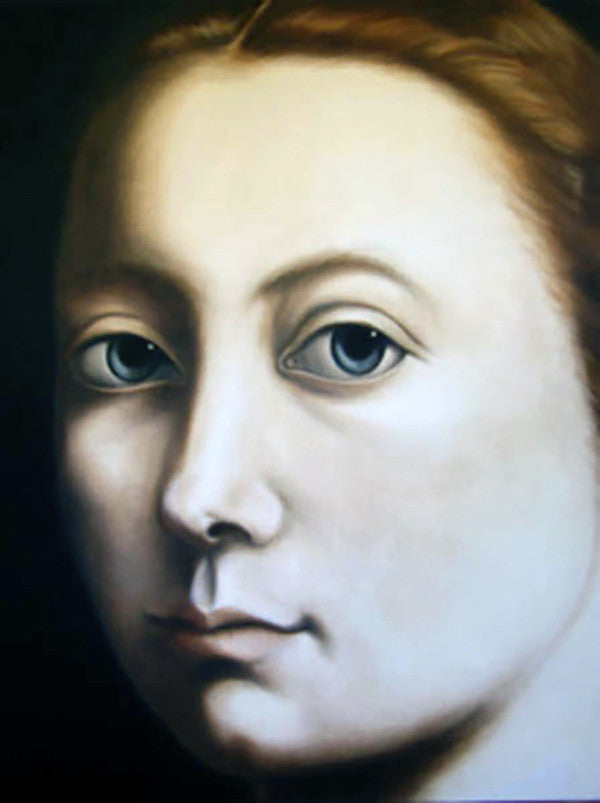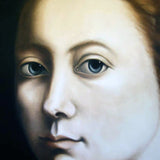 Muse No 21 - After Anguissola
Artist's Statement: Amber-Jayne Stirling said her paintings of women draped in cloth and colourful still life's of flowers and fruit have a distinctly feminine feel. A fascination with the beauty and sensuality of flowers and fruit has, for many years, inspired Stirling's paintings. It was the textures and delicacy of the forms, the luscious hues, dramatic contours and the allure of ripe, juicy flesh that inspired her latest works.
Medium: Oil acrylic on canvas
Dimensions: 150 x 120 cms
Date: 2009
Condition: New
CHG Director's Statement: Amber-Jayne Stirling has taken part in many group shows and shown at the Sydney Art Show and Art Melbourne. Her work is held in private collections in both Australia and overseas and she has recently completed private commissions for buyers in Switzerland, the UK, and the United States. In 2005 she was commission by Australia Post to create a painting of the Madonna and Child, which is held in their archives.

Amber-Jayne has conducted many workshops in drawing and painting for both adults and children, and individuals with physical disabilities. She has recently run an art therapy group for adolescents with mental health conditions at the Nexus unit at the John Hunter Hospital. Her work as a Paediatric Physiotherapist enhances her ability to provide instruction and guidance to these groups.

In 2008 she spent 8 months in Florence to further her skills in drawing and painting at the Angel Academy, an Atelier specialising in the classical realist painting style of the Italian masters of the 16th and 17th centuries. She returned to her beloved Italy in 2009/10 for more inspiration, and found love.
RELATED SERVICES
If this artwork is SOLD or ON RESERVE and you would like to BUY art by this artist please contact us here. 

If you would like an APPRAISAL or VALUATION for art by this artist please use our online valuation service here.

If you would like to SELL art by this artist please contact us here.
---
Muse No 21 - After Anguissola