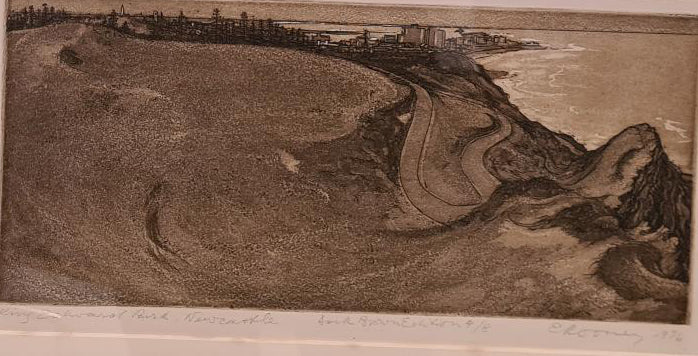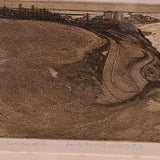 King Edward Park, Newcastle (Dark edition) 4/8.
Medium: Etching on paper Print
Dimensions: 14 x 32 cms
Year: 1976
Condition: Good

CHG Director's Statement: 
Elizabeth Rooney (1929 - 2016) was an important figure in the revival of printmaking in Sydney in the post-war period.
Born in Sydney in 1929, she studied painting and drawing at East Sydney Technical College in the late 1940s. In 1949, the last year of her studies, Rooney began making etchings under the influence of one of her teachers, Herbert Gallop, and soon discovered that prints were her metier.
Unable to travel or study abroad, and with printmaking in a moribund state in Sydney, she was forced to teach herself how to make prints using the books of British printmaker SW Hayter (1901-88). Through discussions with other artists - her first etching press was given to her in 1954 by Bim Hilder - and experimentation with techniques and materials, she was to produce a distinctive oeuvre of over 400 etchings spanning more than five decades.
Rooney's prints were often bitingly satirical – she was interested in urban conservation and development, referring to the changing faces of Sydney and Newcastle in her work. An early phase of abstraction in the 1960s was something of an aberration, with the majority of her works executed with her trademark linear figuration.
A key figure in the contemporary printmaking revival that occurred in Sydney in the early 1960s, she was a foundation member of the Sydney Printmakers group that included Henry Salkauskas, Earle Backen and Eva Kubbos, and a regular exhibitor with the Contemporary Art Society. Her work was included in the important First Australia-wide graphic art exhibition. In 1961 she was co-founder with Joy Ewart, of the Workshop Arts Centre, Willoughby, a well-loved community art workshop still in operation today.
Rooney's prints are held in a number of major collections, including the National Gallery of Australia and the British Museum as well as the Art Gallery of NSW.
(Excerpt of Elizabeth Rooney's career, credit of Art Gallery of NSW)
RELATED SERVICES
If this artwork is SOLD or ON RESERVE and you would like to BUY art by this artist please contact us here. 

If you would like an APPRAISAL or VALUATION for art by this artist please use our online valuation service here.

If you would like to SELL art by this artist please contact us here.
---
King Edward Park, Newcastle (Dark edition) 4/8.