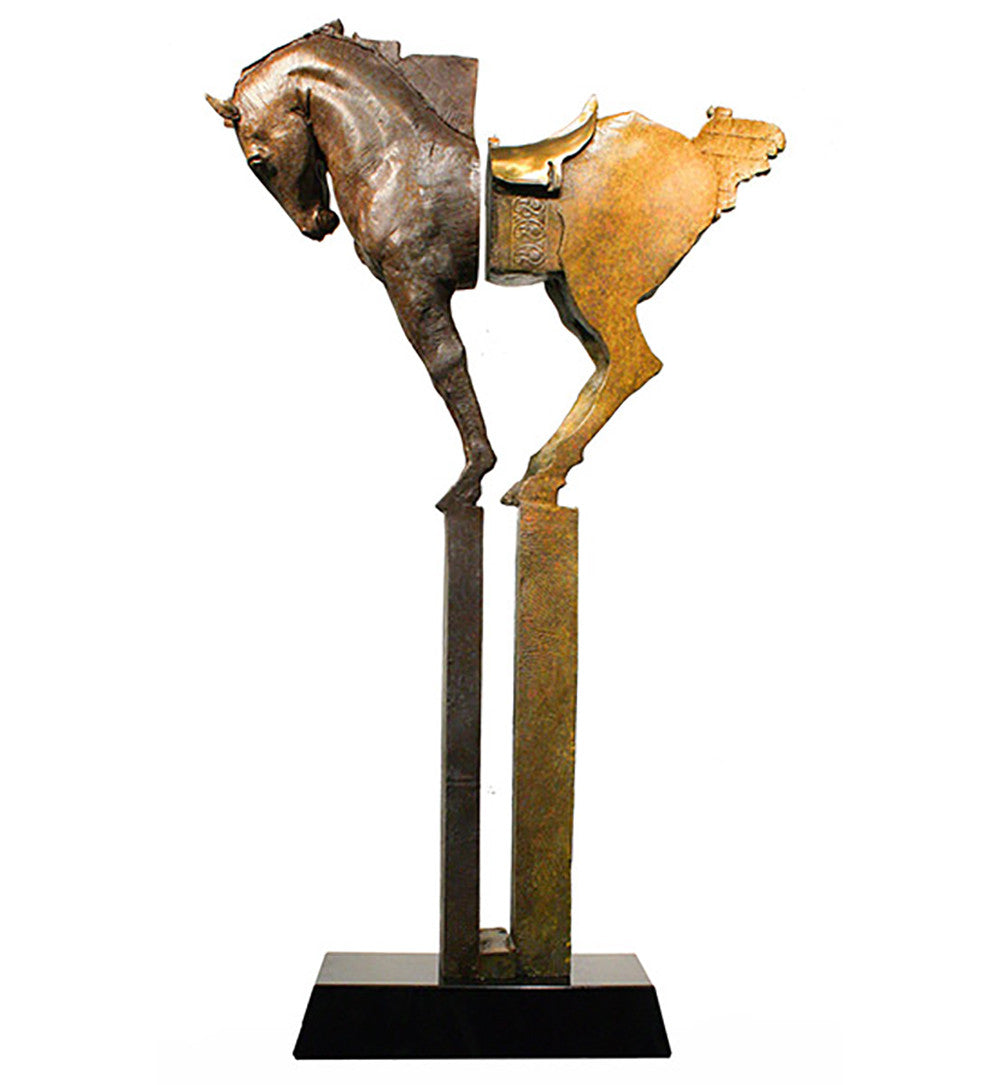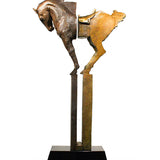 Artist Statement: High Horse was the idea of combining two styles of modelling into one sculpture.You will notice that the rear of the horse is flat in style, whilst the front is quite traditional. This idea sprang from making "Superceded" and splitting images. A horse in sculptural and visual terms, is very square, but if you want to make it a bigger piece, the mass of the sculpture becomes very big very quickly , and very expensive to cast into bronze. So my simple logic said put it on a column, which is what I did. It helps to create a bigger, taller piece, without creating a huge mass.
Medium: Bronze Sculpture
Dimensions: 105 X 56 X 10 cms
Date: 2010
Condition: Good
CHG Director's Statement: Steve Glassborow images immediately command the viewers attention with striking imagery, forms and design. His sculptures often relate to an art deco form which has morphed into themes influenced by fashion, robotic figures and animals in recent years.
Steve has developed the patination of the sculpture to an art form in itself, which all happened by accident!
Sophistication is a word that comes to mind when describing his sculpture. Understatement alluring, fascinating and highly imaginative all are appropriate as well, which describes his sculpture. We often see a whimsical side within the artists designs.
Having followed his artwork for nearly two decades I have seen a massive transition in his design, never willing not to push the barriers of development.
I recommend this professional and active sculptor who possesses a vision and design that is of a world standard. We are fortunate to represent an artist of such note!
Steve is available for commission work via the gallery, please enquiry if this could be a thought whether it be for private courtyards, interiors or commercial application.
RELATED SERVICES
If this artwork is SOLD or ON RESERVE and you would like to BUY art by this artist please contact us here.

If you would like an APPRAISAL or VALUATION for art by this artist please use our online valuation service here.

If you would like to SELL art by this artist please contact us here.
---