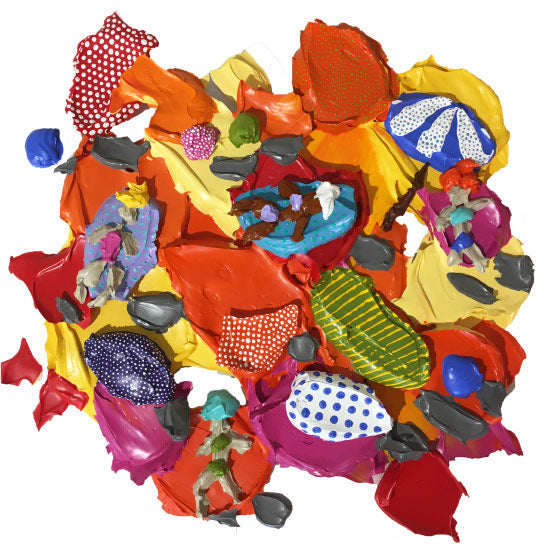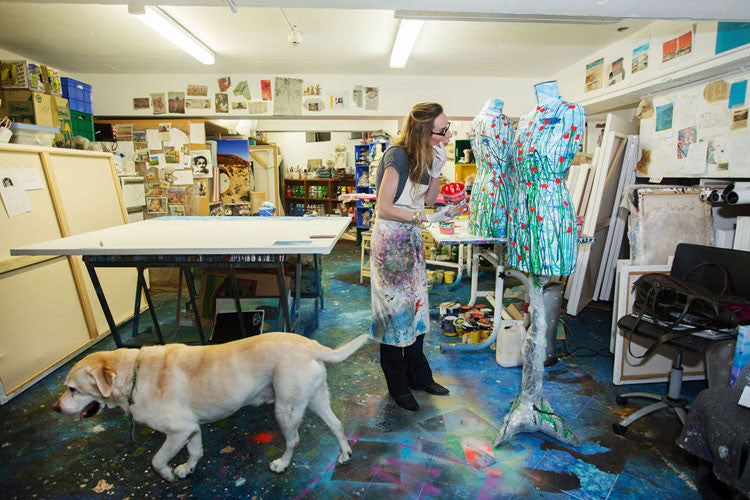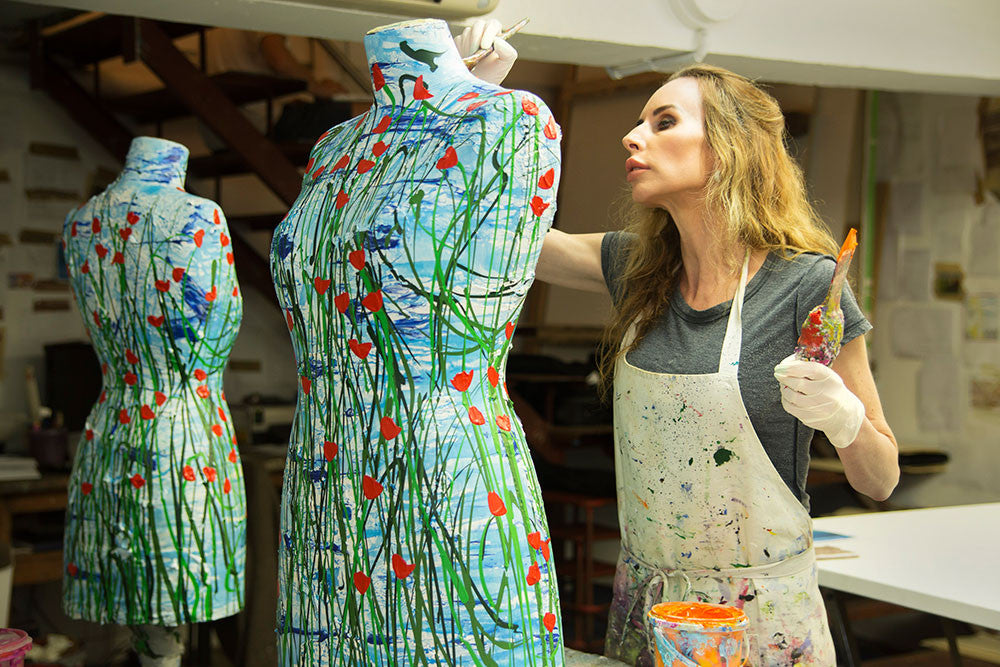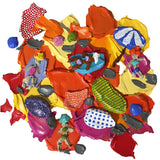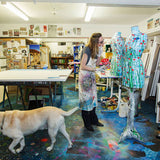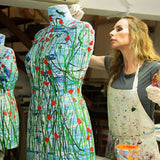 Artist Statement: The forms in my work are often in the act of becoming, changing, evolving or resisting. The diversity of medium, colour and texture is in an attempt to heighten these states of flux. Tapping into the ever flowing and sparking subconscious, where movement and change is a constant, primal and sometimes tribal inferences come to the fore. 

Frequently I reference the frenetic pace we place upon ourselves, conscious or subconscious, and the suggestion of what we impose, berate and complain of, but do not always acknowledge, amend, rectify or accept. Technically, I am interested in making inks, sections of paper, aqua enamels and impasto paints more visceral and physical, with a body and texture of their own. The conscious choice of this diversity of medium within a single work is in anticipation that the contrasts will translate and heighten the ever changing. Luminous colours shouldering sections of print, nestled against washes of colour, bordering swathes of texture are there to drive this message further, the tension of these differing mediums and placement of pulsating colour to communicate friction and movement.
The process of painting is for me a metaphor for life and creation. As we are a part of nature our energies flow through what we do and often the materials we use. For me the paint is often imbued with a sense of the Artist themselves. Applying and moving the product around the canvas, offering the medium its own flow and path, and at other times controlling and orchestrating its position and presence, manipulating its lead, creates a tension, being again another state of flux. These random movements, both innate and subliminal, engendering form and structure, can often provide a sense of verity and validity.
Medium: Acrylic Impasto On Perspex
Dimensions: 40 x 40 cms 
Date: 2018


CHG Director's Statement: Pity she is averse to colour! Not so, Rebecca Pierce is addicted to any colour and combines it with energy, experimentation and dedication to her art. In fact she has mastered juggling life, art and business!
As such she doesn't fit the usual artist profile, yet her commitment can never be questioned! In more recent years I have seen her need/want to utilize various mediums and media, with her open minded approach to learning about art and at the same time herself both seem never ending!
This eclectic exhibition introduces the viewer to landscape, seascape, portraiture, figurative, ice cream, signage and he earlier painting being inspired by folk law and hero worship is fascinating- i.e. she marvels at a great person and their deeds after delving into their history.
The visual effect and surface finish of her art demands attention and I have seen the style become more sophisticated over the years. It was 2012 when Rebecca had her last exhibition with CHG and much refinement has been evident.
A characteristic of one element of her media is the 'impasto' surface which is again present, albeit with more subtle colour than the past and her recent resin surface is compelling.
In more recent years Rebecca has gained 'finalist' recognition in suburban art competitions, however I cannot see her being satisfied with that for one minute! Her yearning for self development is a key driver within her personality, best illustrated by her 'can do' approach for almost anything she turns her hand to!
It's that fearless approach I appreciate in her art that continues to see her art evolve or in her case change. There is no pattern or pathway with her art exploration, that's the fun I think for her and certainly art viewers.
MW.
RELATED SERVICES
If this artwork is SOLD or ON RESERVE and you would like to BUY art by this artist please contact us here. 

If you would like an APPRAISAL or VALUATION for art by this artist please use our online valuation service here.

If you would like to SELL art by this artist please contact us here.
---