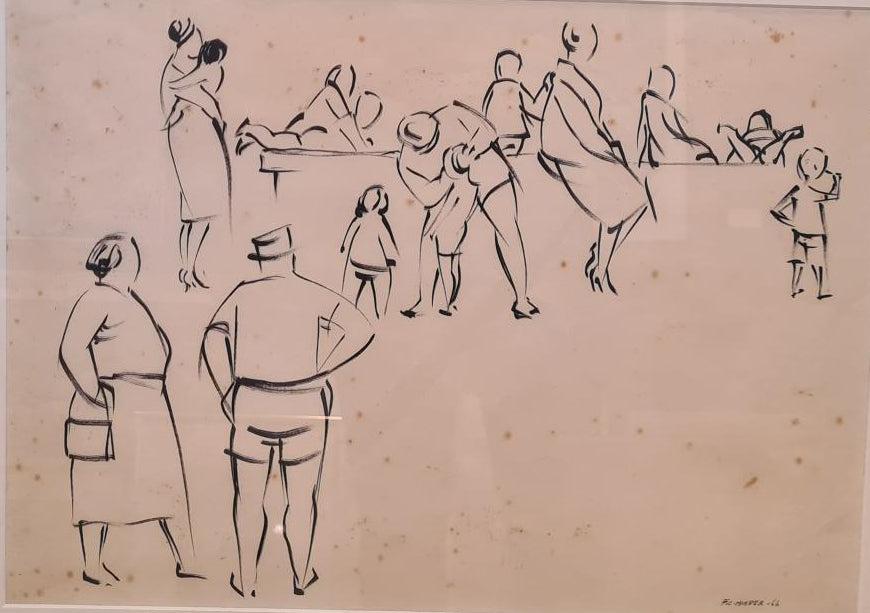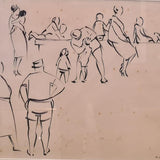 Group - Fountain watchers
Artist Statement: It comes into this business of design and the relationships and the rhythms, and if you can link into the actual so-called life rhythm in your work then I think you are getting a little bit closer to the universal, whatever it is, that makes us tick. It always fascinates me that you can stand in a room and you can tune in to any damn place on earth if you have got the right set inside you. In other words, we are filled with radio waves and god knows what not. And so it's the relationship and the sensation in the connection of everything…and a relationship not only to the things around us, but to the things outside and then on to the universe and inter-stellar space and gosh knows what. It's the rhythm and the apparent laws that make these things work. And I think that's what we are trying to express in a very feeble sort of way. Frank Hinder.
Medium: Drawing - felt pen on paper
Dimensions: 31 x 44 cms 
Condition: Good                                                                                                                Date: 1966 
CHG Director's Statement: Francis Henry Critchley Hinder, or Frank Hinder was an award winning Australian painter, sculptor and art teacher. Best known for his abstract paintings Hinder is also recognised for his camouflage designs.
He was a trustee of the Art Gallery of New South Wales and appointed as a Member of the Order of Australia.

Hinders work is held in many public galleries including the Art Gallery of New South Wales, Art Gallery of South Australia, Australian National Gallery, Australian War Memorial and the National Gallery of Victoria. He passed away aged 86 in 1992.
RELATED SERVICES
If this artwork is SOLD or ON RESERVE and you would like to BUY art by this artist please contact us here. 

If you would like an APPRAISAL or VALUATION for art by this artist please use our online valuation service here.

If you would like to SELL art by this artist please contact us here.
---
Group - Fountain watchers