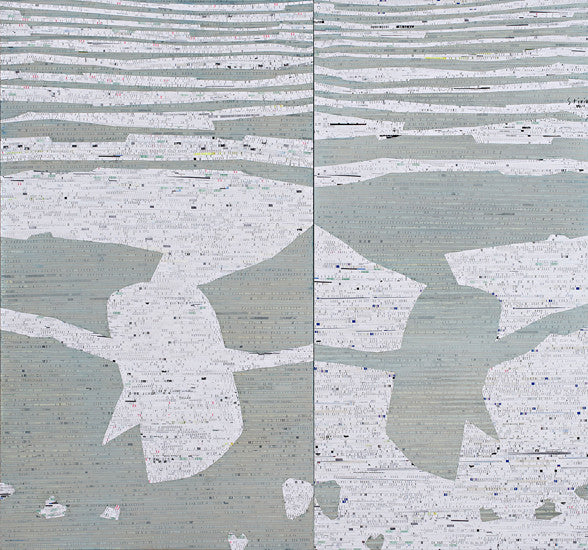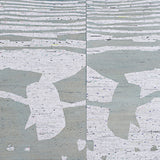 Flesh of Coastal Fire Trail
Catalogue Essay Extract:  In his work Christophe Stibio shows simultaneously the transient character of a society based on a vision of the short term gain and instant gratification, more often than not to the detriment of the land, and the timeless monumentality the features of the land. Like a surrealistic partitur of paper snippets, letters, numbers and signs forming the incongruent notes of a eulogy of the land, these pictures let themselves read as rhythmic abstracted maps of landscapes. They are encoded landscapes in which a meeting of different codes takes place that reflect a complex and fragile equilibrium between man and environment, life and resources, natural environment and urbanisation. These pictures are also a strong reminder that no human intervention or interference will leave the landscape unaffected.
Catalogue essay by- Georges Petitjean. July 2014 Curator at the Museum of Contemporary Aboriginal Art (Utrecht, The Netherlands)
Medium: Mixed media on rice paper on canvas
Dimensions: 132 x 142 cms
Date: 2011
Condition: New
Director's Statement: Christophe Stibio is an Australian artist with a passion, and with his multi cultured background he enhances our painting environment and brings about a subtlety and love displaying a sensitivity with urban and country landscapes. The appeal of such a style of art on the wall encourages the viewer to question, marvel and yet they may never understand or perceive the learning of technique, preparation and patience involved. Sometimes the subject matter is revealed, hidden, exposed, disguised or for me it is orchestrated by the artist at all times. I wonder if I'm in-tune with the artist's vision or have I easily wandered off to another place in his paintings!?
Please ask me to show you some of the secrets of this art which holds many treasures within.
RELATED SERVICES
If this artwork is SOLD or ON RESERVE and you would like to BUY art by this artist please contact us here.

If you would like an APPRAISAL or VALUATION for art by this artist please use our online valuation service here.

If you would like to SELL art by this artist please contact us here.
---
Flesh of Coastal Fire Trail