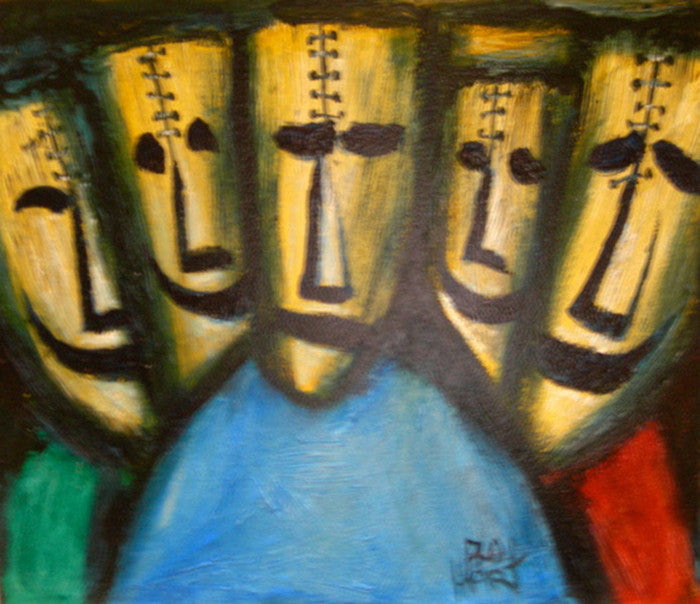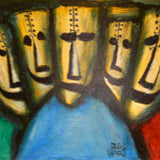 Medium: Oil on board
Dimensions: 45 x 53 cms
Date: 1990
Condition: Good

CHG Director's Statement: This painting by Pro Hart has no reference to the profession of the men or women behind the mask. They are likely to be people the artist knows or knows of! They parallel the native mask with its imagery yet there is a laughter or mocking feel to the painting. There's no doubt the symbolism of the mask is drawn from the recognised outlaw 'Ned Kelly'. Pro Hart I imagine would have sympathised with him from many angles.

Pro Hart was criticised for being a prolific painter, his son John suggesting he painted over 70,000 artworks in his lifetime. Be that as it may the market continues to absorb his art as it has done for 50 years or so. I describe the artwork as the inevitable tide, it ebbs and flows i.e. it is being bought and sold constantly. In my 37 years of business Pro Hart paintings continue to please and attract buyers. This work will be no exception.

A quote from an article; interview 29th March 2006 Pro Hart 'Gutsy Kook' Chris Boyd's blog.

Hart told me, two years back; he "didn't know Nolan from a bar of soap... I put masks on all the people I sent up, so I don't get into trouble. So they can't sue me."

The mask is one of the great dramatic motifs in Hart's paintings. And its use is as iconic and as memorable as the Kelly mask is in five decades of Nolan's work.
RELATED SERVICES
If this artwork is SOLD or ON RESERVE and you would like to BUY art by this artist please contact us here.

If you would like an APPRAISAL or VALUATION for art by this artist please use our online valuation service here.

If you would like to SELL art by this artist please contact us here.
---