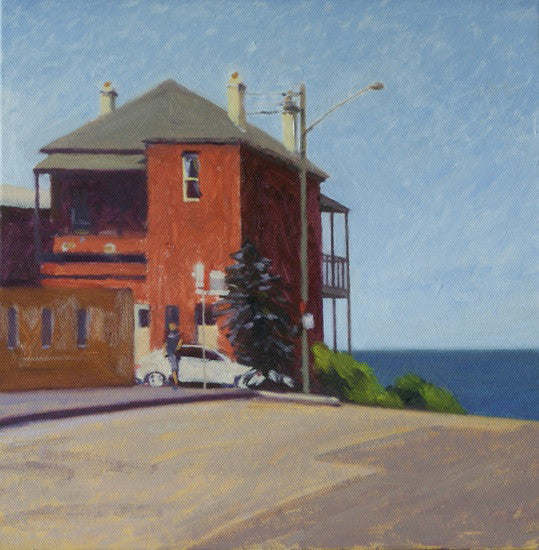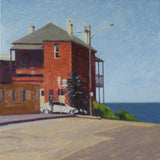 Artist Statement: Painting, and essentially all art is a form of remembering, resonance, which is energy. A painting that evokes an atmosphere or a sense of its own personality becomes its own space, its individual identity, ever more so with a portrait.

When painting a portrait, I enjoy the conversation with the subject as much as painting.

For me, the act of painting is being in the moment, in the here and now. Seeing is all about visual perception. Painting and drawing is the most direct way of making sense of the world. Simplifying the painting to essential elements and reducing details ironically seems to say more.

I always paint in a colour harmony.

Medium: Oil on Canvas
Dimensions: 31 x 31 cm
Date: 2012
Condition: Good

Artist Biography: A full-time artist for my entire career, I have lived in the two worlds of commercial illustration and fine art, until 2000, when I decided to concentrate mainly on painting.
Self employed since 1977. In illustration, worked in a broad range of styles and mediums. It was stimulating and a challenge working out how to produce a large number of illustrations in a limited timeframe and keep the quality in the work. This is a great discipline for an artist.
With fine art I concentrated on figurative subjects and portraits and landscapes. Paintings including people convey a narrative and story.
Started landscape painting around 1990. With landscapes I naturally aimed to capture the atmosphere and light and the structure of the composition and also aims to get in urban landscapes a sense of timelessness and a moment in time which implies an oblique narrative.
As a result of a longtime interest in Buddhism my direction is to simplify the painting, to paint more of a poem than a novel.
I have always had a love of drawing from an early age, being fascinated with watching an image take shape on a blank page, whether a simple cartoon or a full colour painting it is a new experience every time.
RELATED SERVICES
If this artwork is SOLD or ON RESERVE and you would like to BUY art by this artist please contact us here.

If you would like an APPRAISAL or VALUATION for art by this artist please use our online valuation service here.

If you would like to SELL art by this artist please contact us here.
---