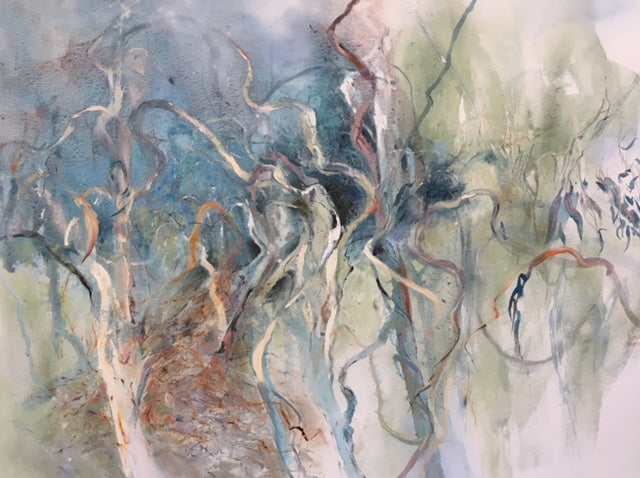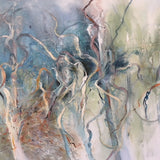 Dance of the Brittle Jacks 2 (Pledge)
Artist Comment: In January returning from the South Coast we took the back dirt roads north of Braidwood. The trees called the Brittle Jacks had newly shed bark which emphasised their white twisting trunks.
Medium: Acrylic/Oil and Mixed Media on Canvas
Dimensions: 91 x 122 cms
Date: 2018
Condition: New
Artist Statement:  Susan has a fascination with wildlife, particularly birds! The central pattern of birds feeding, almost in a frenzy adds excitement to the subject. It provides a focal point and energy in a landscape that is tranquil and subtle. The tones she used in the painting suggests a evenness of light at the location and note the lack of contrast. The aim of which appears to be to capture understatement.
CHG Directors Statement: I first saw Australian artist Susan Sheridan's work at the Strawberry Hills Gallery, Surrey Hills in the 1970's and was captivated by the serenity! Words of description and observations along the lines of – muted tones, atmospheric, impressionistic, sublime, dreamy, understatement and capturing a feeling, all described her art convincingly.
RELATED SERVICES
If this artwork is SOLD or ON RESERVE and you would like to BUY art by this artist please contact us here. 

If you would like an APPRAISAL or VALUATION for art by this artist please use our online valuation service here.

If you would like to SELL art by this artist please contact us here.
---
Dance of the Brittle Jacks 2 (Pledge)