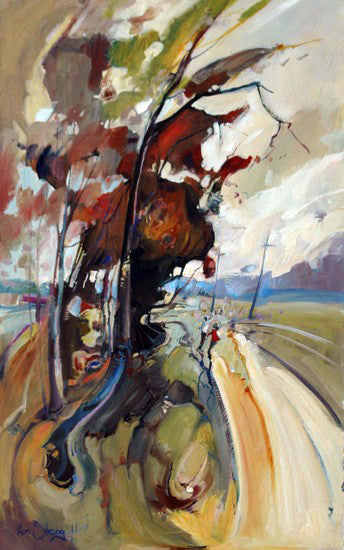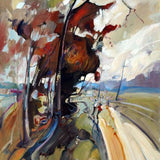 Artist Statement: The landscape is never static. It is a continuum of moving and merging images, changing texture, secrets concealed in shadow and subtle detail. Whether a powerful seascape, a flat desert in blazing heat, a precipitate cliff or a black reedy backwater. All have a potential vibrancy, a hidden well of energy that can be revealed with a light flick or textured fold of paint.

Accuracy of the image becomes less important if the feel of the subject can be emulated. This can be achieved through well planned composition and a free application of the medium. Meticulous deliberation with the brush will sometimes break the visual flow and stifle the image development.

My approach is to combine the strength available in the oil medium with a bold form and subtle subject. A diverse landscape landscape provides the ideal flexibility to develop this approach towards creative composition.

Medium: Oil on board
Dimensions: 80 x 50 cm
Date: 2012
Condition: New

CHG Director's Statement: Ken Strong been painting Australian landscapes for over 20 years and is developing increased recognition both nationally and internationally. Ken's works are characterised by a bold application of paint, but also using a subtle approach to subject development.

Works tend to be an impressionist style with subjects ranging from panoramic landscape to more intimate images combining the influence of man and his surroundings. Works often have a non representational feel with the key compositional element being a well structured use of colour an movement.
RELATED SERVICES
If this artwork is SOLD or ON RESERVE and you would like to BUY art by this artist please contact us here. 

If you would like an APPRAISAL or VALUATION for art by this artist please use our online valuation service here.

If you would like to SELL art by this artist please contact us here.
---