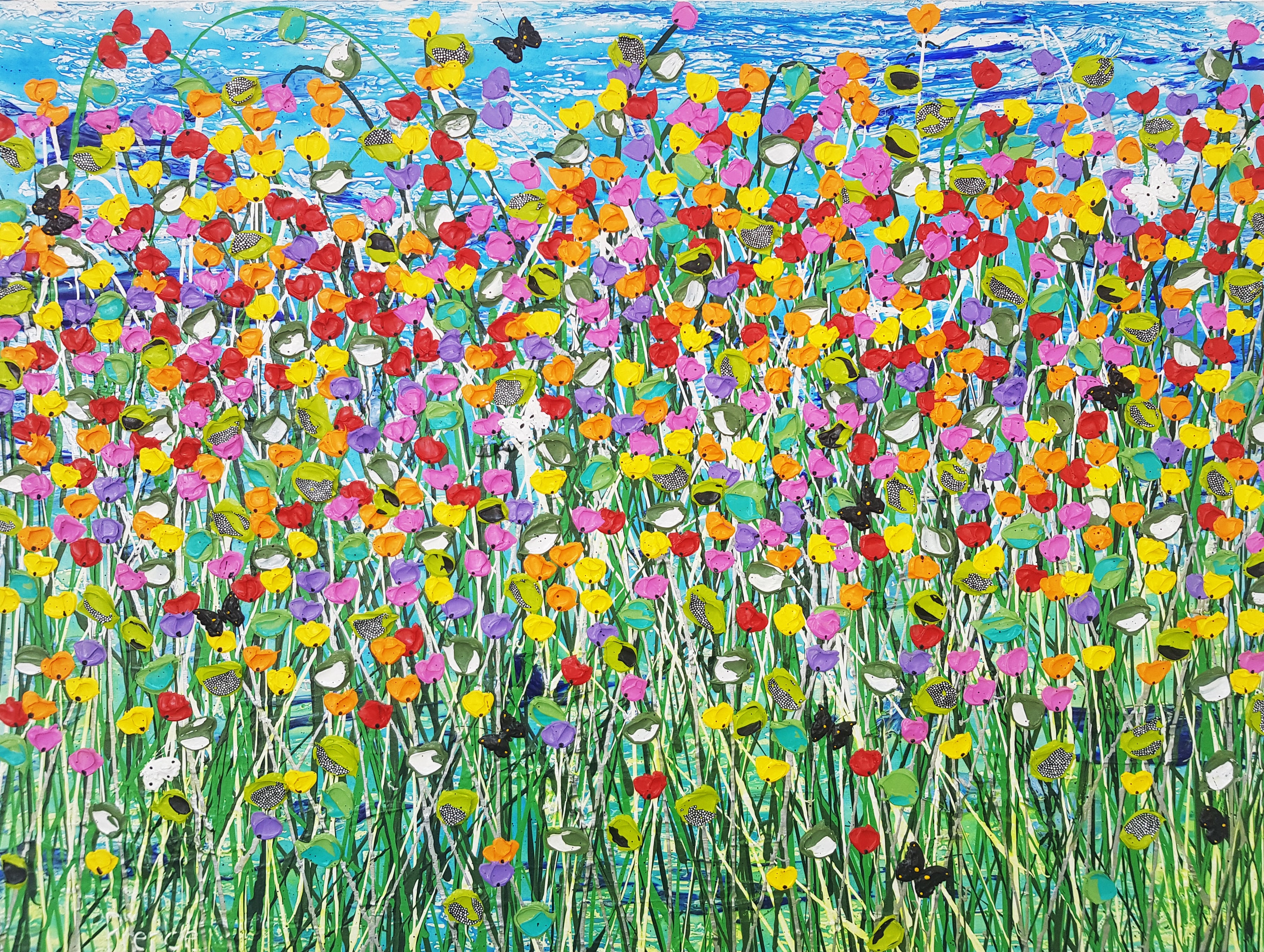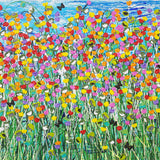 Artist Statement: BUTTERFLY PLAYGROUND is part of 'Daydreams' series
This series is based on a love of colour, the sensual nature of flowers and the relationship between the sky and water. The colour palette is used not to create conflict or be jarring but to instil a feeling of relaxation and pure pleasure.
Initially the series was titled 'The Islands Edge' where the reeds on the edge of an island are slowly swallowed up by tide and the flowers in some works were seen as an underwater garden. In time the feeling of calm called for a new title 'Daydreams' and slowly butterflies began to emerge fluttering through the works to add movement and a playful edge.
Medium: Acrylic and ink on canvas
Dimensions: 91 x 122 cms
Date: 2020


CHG Director's Statement: Pity she is averse to colour! Not so, Rebecca Pierce is addicted to any colour and combines it with energy, experimentation and dedication to her art. In fact she has mastered juggling life, art and business!
As such she doesn't fit the usual artist profile, yet her commitment can never be questioned! In more recent years I have seen her need/want to utilize various mediums and media, with her open minded approach to learning about art and at the same time herself both seem never ending!
This eclectic exhibition introduces the viewer to landscape, seascape, portraiture, figurative, ice cream, signage and he earlier painting being inspired by folk law and hero worship is fascinating- i.e. she marvels at a great person and their deeds after delving into their history.
The visual effect and surface finish of her art demands attention and I have seen the style become more sophisticated over the years. It was 2012 when Rebecca had her last exhibition with CHG and much refinement has been evident.
A characteristic of one element of her media is the 'impasto' surface which is again present, albeit with more subtle colour than the past and her recent resin surface is compelling.
In more recent years Rebecca has gained 'finalist' recognition in suburban art competitions, however I cannot see her being satisfied with that for one minute! Her yearning for self development is a key driver within her personality, best illustrated by her 'can do' approach for almost anything she turns her hand to!
It's that fearless approach I appreciate in her art that continues to see her art evolve or in her case change. There is no pattern or pathway with her art exploration, that's the fun I think for her and certainly art viewers.
MW.
RELATED SERVICES
If this artwork is SOLD or ON RESERVE and you would like to BUY art by this artist please contact us here. 

If you would like an APPRAISAL or VALUATION for art by this artist please use our online valuation service here.

If you would like to SELL art by this artist please contact us here.
---