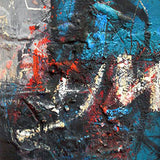 Artist Statement: I am rather reluctant to write about my paintings as I feel that it really is a dialogue between the painting and the viewer – in other words the painting should speak for itself. Here are some thoughts on my work. I endeavour to create paintings which combine elements of the visual world which excite and move me with a continuing fascination with the mediums I use. 

I hope that the results stimulate and sometimes disturb the viewers imagination and also achieve an ordered elegance. I would like to think that the viewer can return to the painting and find new things in the work. Robert Grieve.

Medium: Mixed media on board
Dimensions: 22 x 16.5 cms
Date: 1999
Condition: Good

CHG Director's Statement: Australia artist Robert Grieve passed away on 15 December 2006 at the age of 82, after a distinguished career as a professional artist spanning 58 years.

Robert Grieve's art was inspired by diverse influences, including Cézanne, Social Realism, the V.A.S, schooling from Matthews and Alfred Stone, Max Meldrum's tonal painting, Stanislaus Rapotec's dynamic compositions, the work of Antoni Tàpies and Ian Fairweather and his own interest in Asian art. At the same time, from out of a melting pot of sources Grieve shaped his own idiosyncratic artistic vision, where his rhythmic, abstract compositions communicate on what Grishin described as a spiritual level.

Robert Grieve's art is represented in numerous prominent Australian collections including the National Gallery of Australia, Canberra; the National Gallery of Victoria, Melbourne; the Art Gallery of New South Wales, Sydney; the Art Gallery of Western Australia, Perth, the Queensland Art Gallery, Brisbane; the Art Gallery of South Australia, Adelaide; the Bendigo Art Gallery, Bendigo and the Geelong Art Gallery, Geelong. Robert Grieve is also represented in New Zealand collections such as the Dunedin Art Gallery, Waikato Art Museum and the Chartwell Trust Collection.
RELATED SERVICES
If this artwork is SOLD or ON RESERVE and you would like to BUY art by this artist please contact us here.

If you would like an APPRAISAL or VALUATION for art by this artist please use our online valuation service here.

If you would like to SELL art by this artist please contact us here.
---