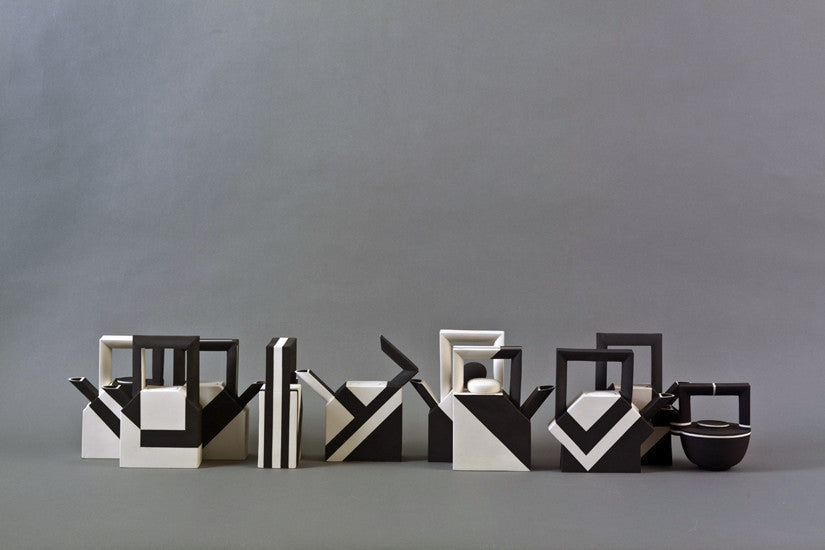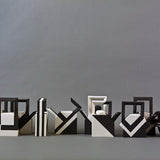 Artist Statement: I find enormous pleasure in bending convention to the verge of impracticality. But not so radically that l miss the challenge of producing a form that still incorporates most of the elements of a properly functioning teapot, such as the height of the spout to the pot, the ease of filling, emptying, and handling.

Surface decoration plays a vital role in reinforcing the abstraction. Bold areas of black underglaze are applied with distinct boundaries dictated by the form's angles and planes. In pairs or ad hoc groupings the teapots react with each other and the spaces between to present complex geometric patterns. Dianne Peach.
Medium: Ceramic
Dimensions: 21.5 cm x 1.4 metres x 17 cm
Date: 2012 - 2013
Condition: New
Director's Statement: Dianne Peach studied ceramics at the Central Technical College in Brisbane, then established her own pottery studio and began teaching in 1966. In the 1981 and 1985 directories, she is based at the Bellbird Pottery at the Gap, Brisbane, Qld. She began by making finely thrown bottles and bowls but became interested in the contrast between function and form and now combines slab, tube and slipcast elements to make precisely built geometric pieces decorated formally using stains and underglazes. She has exhibited widely and her work is represented in a range of public and private collections.
RELATED SERVICES
If this artwork is SOLD or ON RESERVE and you would like to BUY art by this artist please contact us here.

If you would like an APPRAISAL or VALUATION for art by this artist please use our online valuation service here.

If you would like to SELL art by this artist please contact us here.
---