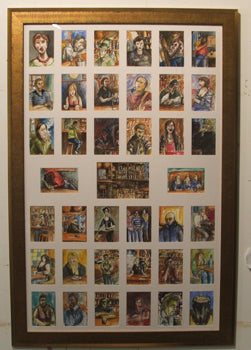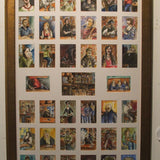 39 Pints at Fibbers Maggees Toowoomba
Artist Statement: I'm an artist riding my Velocipede forward into the 19th century. Alasdair Groves.

Medium: Ink and wash sketches on paper
Dimensions: 130 x 90 cms
Date: 2013
Condition: New

CHG Director's Statement: Born in Queensland in 1969, Alasdair has been painting and drawing all his life. He studied visual arts at Sydney College of the Arts BVA 1992-1994 and worked, before and after university, as a studio assistant with major Australian Artists Robert Morris, Joe Furlonger, Michael Johnson and Mathew Johnson.

Alasdair has had numerous solo shows and group exhibitions in both Sydney and Queensland, and his work is represented in private and public collections in Australia and overseas.

Alasdair works in all mediums, though mostly in oils or ink and wash. The majority of his work for the past thirteen years has consisted of contemporary abstract painting, however, over the last few years his work has been returning to the strong figurative and drawing base upon which it began.

Alasdair's work is characterised by dark irony, observations of nature and landscape, rural Queensland culture, dreams, mythology, and social criticisms. Alasdair dislikes the overused and culturally meaningless term "artist" and prefers to call himself simply a "painter".

Alasdair lives and works near Toowoomba, Queensland.
RELATED SERVICES
If this artwork is SOLD or ON RESERVE and you would like to BUY art by this artist please contact us here.

If you would like an APPRAISAL or VALUATION for art by this artist please use our online valuation service here.

If you would like to SELL art by this artist please contact us here.
---
39 Pints at Fibbers Maggees Toowoomba