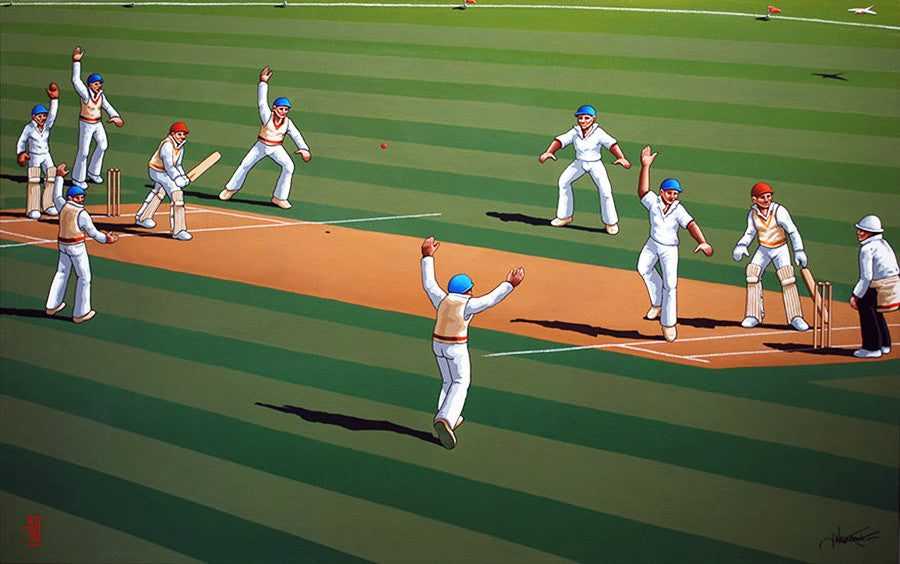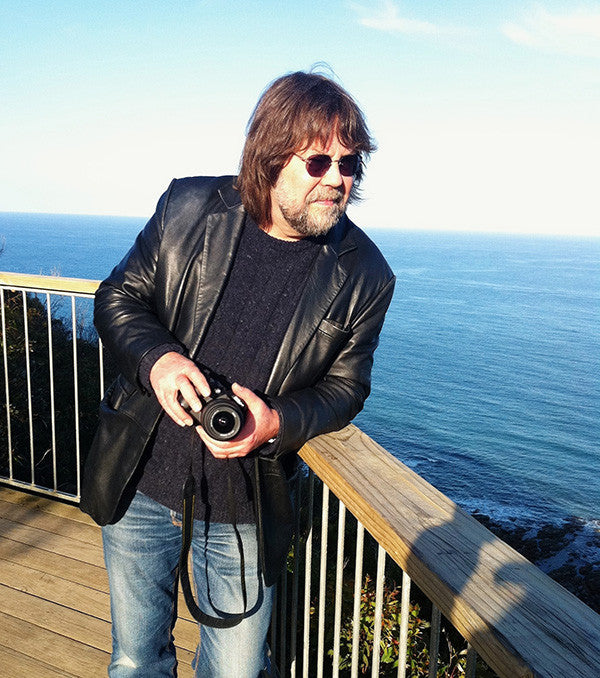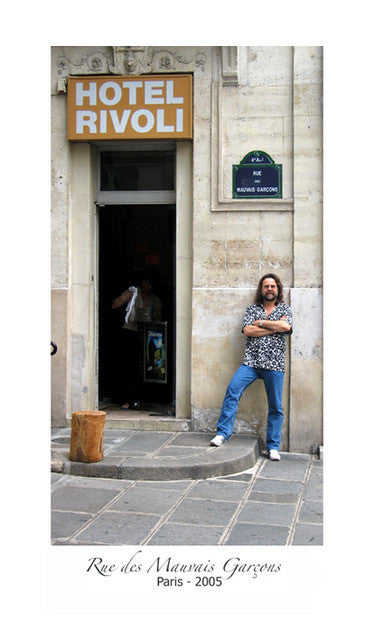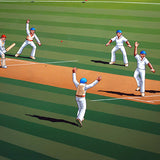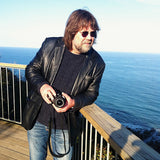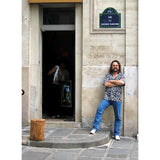 1st wicket, 2nd innings, 5th day
Artist Statement: My fascination with the Eastern Seaboard and its iconic architectural beauty springs from my teenage years living in Sydney's northern suburbs and being an avid surfer and later extensively travelling the east coast in rock and roll bands. The Art Deco Bathing Pavilions, Surf Clubs and Ocean Baths - the classic surfing figure and the romance of The Surf Board-both long and short, have been a constant motif and preoccupation in my work.
This nostalgia connected to the landscape of my youth is an important element of my work both thematically and emotionally.
In my sharply defined style I aim to not only capture something about the Australian landscape but to also explore how our intense antipodean light illuminates and dominates the whole experience.
Throughout my painting life I have always been attracted to unusual and nostalgic subject matter that I love and thus have always been aware of treading that fine line between romantic sentiment and 'fine art'. Some of the subject matter may initially appear bland and anonymously peripheral, but my artistic challenge is always to try and make something special out of something ordinary and create an emotional resonance for the viewer. Above all my work is a celebration of our unique Australian landscape and my response to it.

Medium: Acrylic on Canvas
Dimensions: 95 x 150 cms
Date: 2009
Condition: Excellent
CHG Directors Statement: Like many Australian artists James Willebrant uses the Australian landscape as an inspirational springboard for his exploration and celebration of the Human Condition. His idiosyncratic response has seen the development of a style and vision, the uniqueness of which is immediately recognisable. He has nurtured and honed this original vision over many years; refusing to compromise its integrity, and above all respecting the work and the life of each painting.

His style has been variously labelled, Surreal, Naive, Pop Art, and even Existential... but no label can really encompass or describe the subtleties of this artists unique work. He paints the Australian landscape and captures its amazing light. He celebrates nostalgic Australian popular culture. He paints the human form in this landscape and as we look at his everyman-everywoman figures, caught in a particular moment of being, we are brought back to some personal emotion, experience or memory. Such a response needs no label or critical thesis. It just is... the essence of Good Art. It provokes, it stimulates, and it celebrates. It defines something about our essence, which is beyond words.
RELATED SERVICES
If this artwork is SOLD or ON RESERVE and you would like to BUY art by this artist please contact us here.

If you would like an APPRAISAL or VALUATION for art by this artist please use our online valuation service here.

If you would like to SELL art by this artist please contact us here.
---
1st wicket, 2nd innings, 5th day